copyright 2016 Art of Living, PrimaMedia, Inc./Maria Liberati
"It's difficult to think anything but pleasant thoughts while eating a homegrown tomato"
Lewis Grizzard (American Columnist 1946-1994)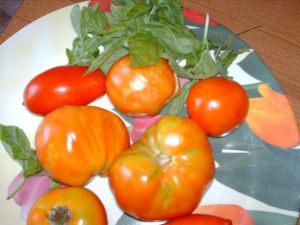 ……an easy tomato pannino for those luscious, home grown tomatoes…..
Basic Italian Pannino
Ingredients:
*2 red ripe tomatoes
*4 slices crusty Italian bread
*1 tablespoon extra virgin, cold pressed olive oil
*small handful fresh basil leaves, washed, and dried gently with paper towels (leaves only, no stems)
*Pinch of salt to taste
Directions:
Drizzle olive oil on bread slices. Cut mozzarella into 1/4″ thick slices. Place on top of bread slices. Place tomato slices on top of cheese. Tear basil leaves by hand into small pieces, place on top of tomato slices, add a pinch of salt, another quick drizzle of olive oil and top with the other slice. You can also grill this for a few minutes on each side or eat cold.
For more great recipes get your copy of one of the books from the award winning book series
The Basic Art of Italian Cooking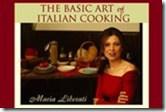 The Basic Art of Italiam Cooking:Holidays and Special Occasions-2nd edition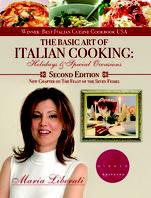 The Basic Art of Italian Cooking: DaVinci Style