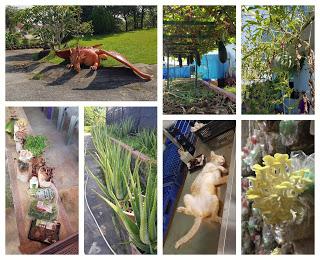 Feeling quite like a tourist in my own country, my family went for a tiny road trip to Lim Chu Kang for our marketing needs. Far away from the bustling city, I felt like I was tossed into some rural areas. Along the way, we also passed by many cemeteries. But it wasn't very eerie cos the sun was bright and cheery. 
Not the most convenient place in Singapore, there was only one bus route. Along our way to Kin Yan, I was praying rather hard for our car to not break down on this god forsaken place. Hehe. Sounds pretty much like a first world problem, heh.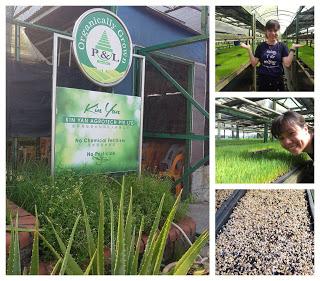 For all you readers who are into organic food, Kin Yan is a pesticide free farm. You can find quite a bit of fresh produce at a fraction of the sales price if you have the patient to make a trip in. Honestly, apart from the long journey, Kin Yan is quite an interesting place to visit. You can check out the farm where mushrooms, wheat and some vegetable are grown. 
For me, the most interesting find was the black chicken. I never knew it had such fluffy feathers <3 Apart from the local produce, you can find tonics from Hock Hua (heard they were affiliated). There is also wheat ice-cream, pure wheat juice and mushroom soup for sampling. There are also DIY growing kits available. Personally, I would really recommend grabbing the mushroom soup and their fresh produce home (it is really fresh and yummy!) Note: You can get free delivery if you buy S$100 of their produce!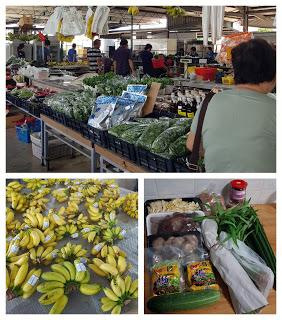 Since we made such a far trip, we went all out and also visited the weekend market at Kok Fah. Comparatively, Kok Fah had a tiny crowd. My father got all excited seeing the endless rows of vegetables. According to our house-chef, the price of the vegetables was not that competitive. But it was definitely much fresher than the products you can find even at the wet market. 
My brother and I were more interested in the side activities. I had quite a good time observing the turkey (first time seeing one in my life OMG), frogs and terrapins. There was also a pond full of aggressive koi fish swarming to be fed. Personally, my interest lie more in the plants. I spent most of the time exploring the vegetation available for sales haha. We didn't buy anything but I think I more or less had a sense of what I wanted to grow in my mini garden once our house arrive.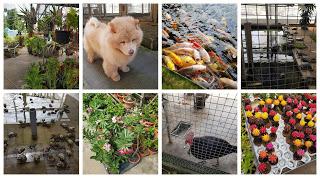 Although my brother and I are no kids, we nonetheless had quite a bit of fun at the weekend market. I would definitely recommend this to families with your kids. While the kids wander about, you can also do some grocery shopping. Feels like a good deal if you ask me. And it is also a pet friendly place, we caught quite a bit of cute, friendly dogs sniffing around <3 
Will probably be back again once our house arrive and maybe again when we have a little one...It is quite a long ride for us, but I think it is definitely worth the time :D