Some dishes just bring back vivid and warm childhood memories. Food has a way of being that for me. A memory maker. Of course, I was always in the kitchen with Mom, watching, helping and learning more than I ever imagined. Holidays were always festive in our postage stamped size little West Virginia holler home. Thanksgiving meant Mom got up at the crack of dawn and started cooking. The aromas that would waft through the five little rooms were intoxicating!
One thing that Mom always made during the holidays, both Thanksgiving and Christmas, was fresh cranberry salad. I can't remember her recipe precisely, but I do know that there were lots of walnuts, celery and cranberries in it. While we didn't have a food processor, Mom did have a meat grinder that attached to the side of the dining room table. And, this is where she'd put those little cranberry marbles in and grind away.
I know Mom didn't use these mandarin oranges, but I know she'd totally approve. They had a juicy sweetness to the salad that's just even more happy. You can use canned or frozen. You could also try using fresh 'Cuties' separating the sections. Be sure to remove all the skins and strings. Next time I'm going to use Dole Sunshine's frozen mandarin orange sections for even more freshness!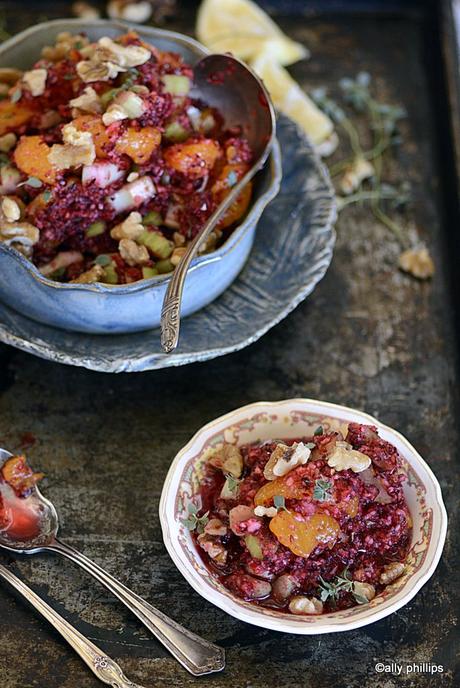 Ingredients
3 cups fresh cranberries, washed well
2 cups celery, sliced thinly
1 can (15 oz.) mandarin orange slices, drained well
1/8 tsp. sea salt
2/3 cups sugar
1/2 lemon, juice and zest
2 Tbl. fresh thyme leaves, roughly chopped + more for garnish
1 cup walnuts, chopped
Instructions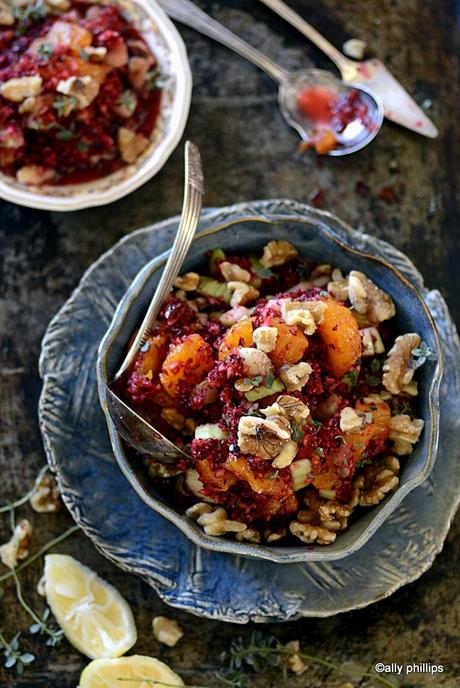 Comments