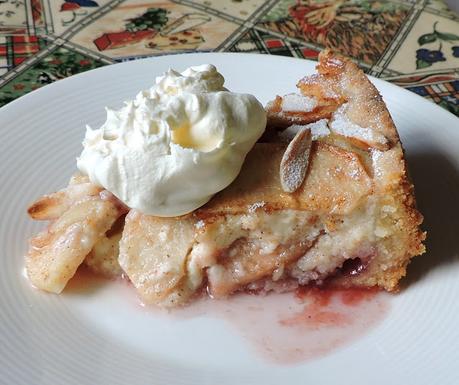 This fresh apple torte recipe I am sharing with you today is unlike any other that I have seen online. It boasts a delicious buttery crust, layered with jam. On top of that goes a lush cream cheese filling.
Slices of sweet apple are layered on top of that and the whole thing is sprinkled wih slivered almonds before baking to perfection. Is this a cake?  Is this a pie? Is this a cheesecake?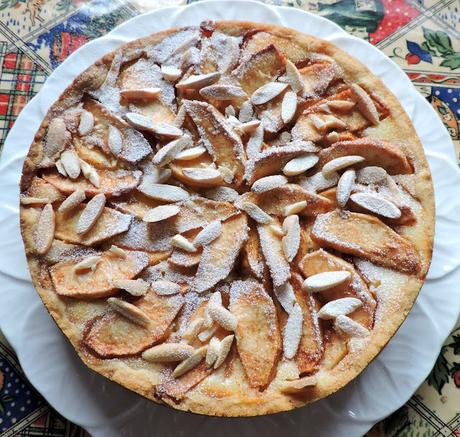 Its actually all three rolled into one delicious dessert! This is one of the most perfect winter desserts when not a lot of fresh fruit is available.  We always have apples though and here in the Annapolis Valley we grow some of the best! 
For this recipe you will want a sweet eating apple.  I would highly recommend a Cortland. Not only are they firm and crisp, but they bake up nice and tender and are nice and juicy.  They are also quite resistant to browning. They are perfect for this kind of dessert!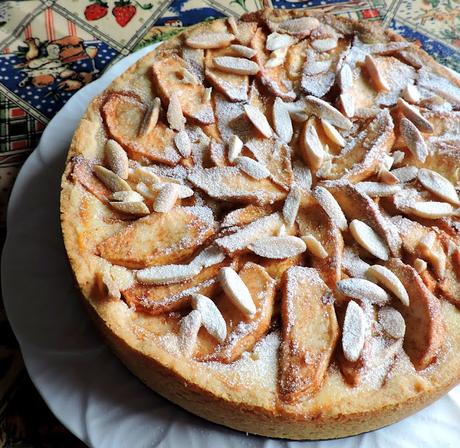 The original recipe for this beautiful torte comes from a Robin Hood leaflet that I saved from out of a magazine many years ago. It was destined to become a tried and true family favorite. Everyone I make it for loves it, and no small wonder! 
First of all you have that buttery base, which is somewhat reminscient of a sweet short bread cookie in texture. Short, buttery, crisp. You simply make the mixture and then press it into the bottom and up the sides of a spring form pan.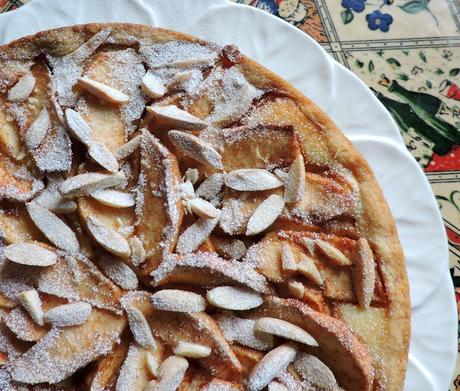 I suppose you could also do it in a pie plate, but a spring form pan makes for a much nicer presentation. A spring form pan also makes it relatively easy to serve.
Just undo the clip and slip off the sides.  Presto, chango, the torte is ready to be cut into delicious thick wedges. (Yes, I
AM
a glutton, especially when it comes to dessert!)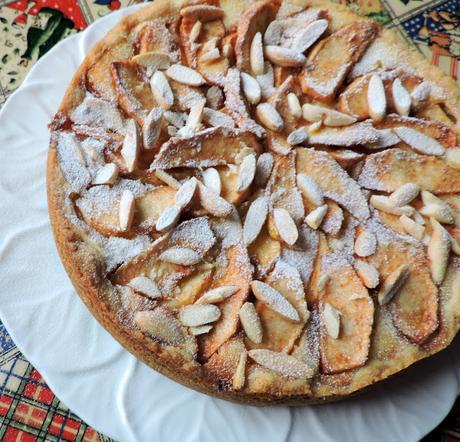 A thin layer of jam is spread over the shortbread crust.  I like to use raspberry jam. Raspberry and apples have a natural affinity for each other. Feel free to use a seedless raspberry jam if the seeds bother you. 
You might be tempted to skip this part, but I am begging you not to.  It adds an amazing layer of flavor to the torte that you really don't want to miss out on. If you are not fond of raspberry jam, why not use marmalade, or even strawberry jam?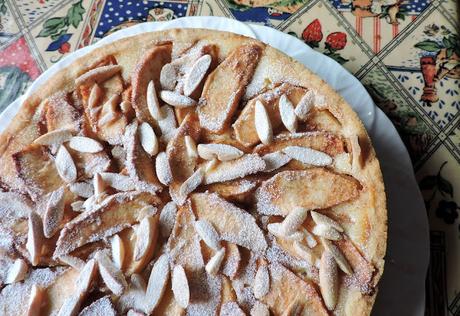 I think marmalade would be an exciting flavor to add to the mix.  Not only is this citrus season, but apples and marmalade also go together very well.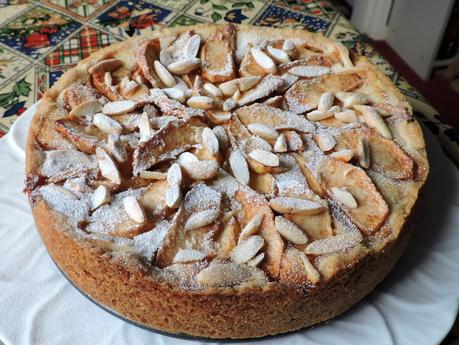 A rich velvety cheesecake type of filling is poured over the layer of jam. This is so delicious and somewhat decadent.  
Flavoured with vanilla it is in perfect contrast to everything else in the torte. Rich and lush it adds a beautiful element of creamy deliciousness into the mix.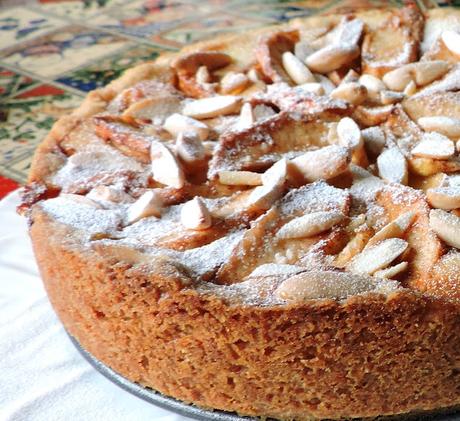 The only faffy bit about this is slicing and layering the apples on top.  Don't be tempted to slice them overly thick. You want them to cook through in the alloted time.
Neither do you want them too thin as you also want them to hold up and keep their shape. Somewhere fair to middlin is the perfect choice.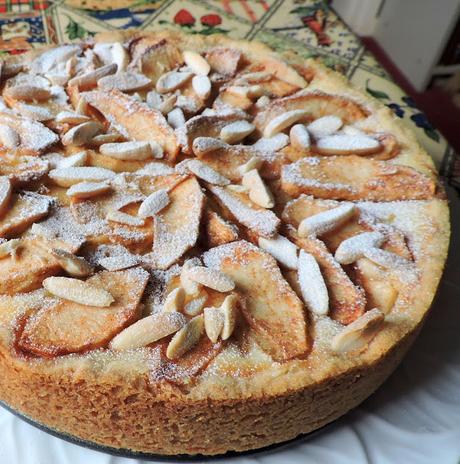 These crisp apple slices are tossed together with cinnamon and sugar for the ultimate experience in apple flavor. You could add a pinch of nutmeg also if you wish. Or even just use apple pie spice if you have that in the house.
I always peel my apples. I do not think that apple skins would be very nice in this.  I think the texture would be off-putting to say the least.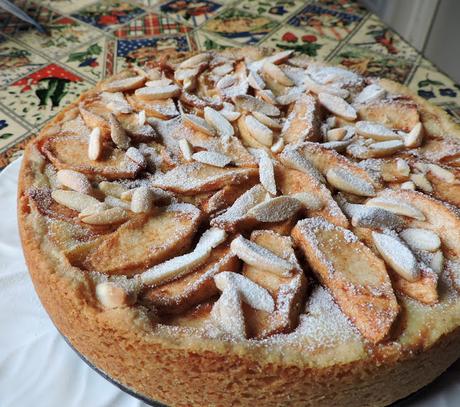 The faffy bit is layering them decoratively on top of the cream cheese filling.  I do it in circles beginning at the outside of the pan and working my way in.
Try not to layer them too  much over top of each other. They cook more evenly and much better if you don't. Trust me on this. You don't want hard apples on top of your torte.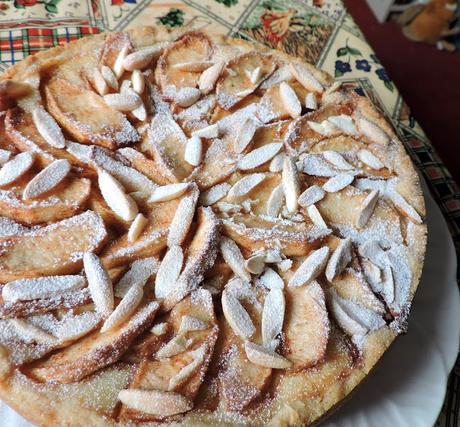 A sprinkle of slivered almonds is this tortes crowning glory.  You could use flaked if you have them.  Today I did not.  I only had blanched almonds.
And so I slivered them with a knife. Not an easy chore if you know almonds, but I managed. Oh, if you can get marcona almonds, so much the better.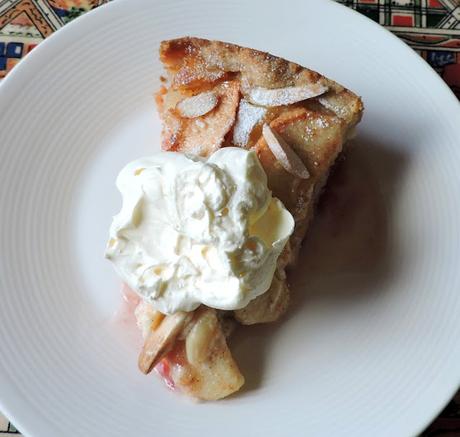 Marcona almonds are fabulously tasty. They are like the Queen of the almond kingdom. Most are produced in Spain and they have a beautiful texture and flavor. 
Rounder and plumper than traditional almonds they have a texture not unlike that of macadamia nuts. They are sweeter than regular almonds with a much more delicate flavor. I love, LOVE them!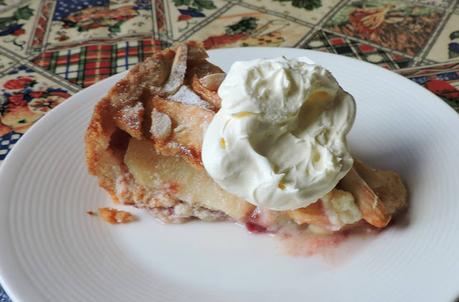 The smell when this is baking is a-
maze
-ing!! Truly.  Your home will be filled with the beautiful scent of cooking apples and cinnamon. Your family will be drooling in anticipation. I guarantee!  
One of my favorite parts is the sugary caramelisation that forms around the edges of the torte as the juices from the apples work together with the sugar as they bake. Yum  . . .  soooooo tasty!
.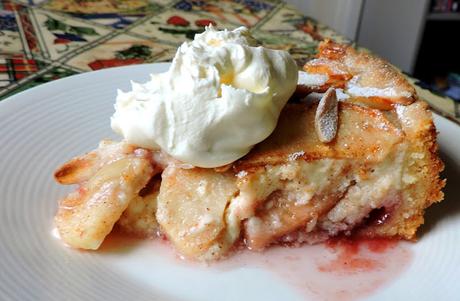 Ideally this should be served warm with a nice scoop of cold vanilla ice cream on top. We only have candy cane crackle in the house, and I don't think that goes well with this type of dessert.  Plain cake maybe, but not this.
We made do with a nice dollop of whipped cream.  You can sweeten it lightly if you wish. I never do. I came to love unsweetened whipped cream when I lived in the UK and much prefer it that way now.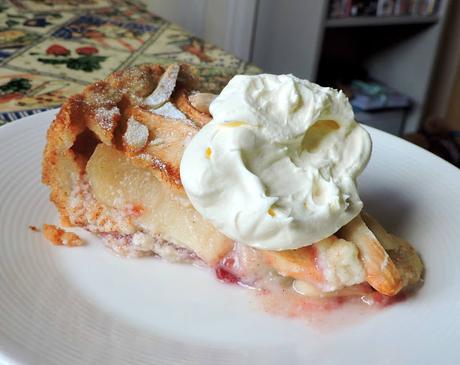 Fact is, this is a fabulously delicious dessert no matter what you choose to serve it with.  Plain or with ice cream. Whipped cream . . . dare I say it . . . clotted cream (Oh how I miss thee)! 
The british would enjoy this delightful dessert with lashings of warm custard.  And who can blame them.  Fabulously tasty any way you serve this. Why no bake up some loving from your oven today!
 
Yield:
10 - 12
Author:
Marie Rayner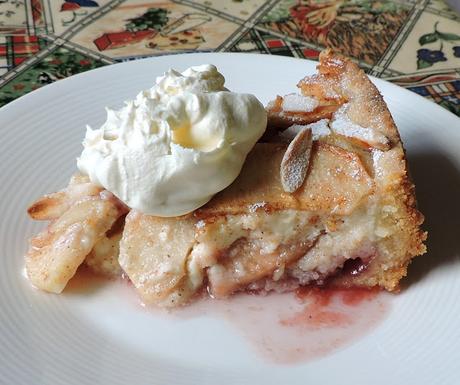 Fresh Apple Torte
prep time: 15 Min
cook time: 40 Min
total time: 55 Min
A very simple and easy apple dessert which cuts into nice firm pieces. With plenty of apples, a cream cheese filling and a buttery base, this is good eating. Plain and simple.
Ingredients
For the Base:
1/2 cup (125g) butter, softened
1/3 cup (70g) granulated sugar
1/4 tsp vanilla
1 cup (140g) plain flour
1/2 cup (120g) raspberry jam, loosened with a fork
For the cream cheese filling:
8 ounces (225g) full fat cream cheese
1/2 cup (95g) granulated sugar
1 large free range egg
1/2 tsp vanilla
For the Apples:
4 medium apples, peeled, cored and thinly sliced (bout 4 cups)
1/3 cup (70g) granulated sugar
1/2 tsp ground cinnamon
1/2 cup (85g) slivered blanched almonds 
Instructions
Preheat the oven to 200*C/400*F/ gas mark 6. Have ready a 9-inch round spring form pan. Set aside.
Cream together the butter, vanilla and sugar for the base. Add the flour and mix until you have coarse crumbs. Press into the bottom and 1 inch up the sides of your pan.
Spread the raspberry jam over the bottom.
Whisk together the ingredients for the cream cheese filling until smooth and pour over top of the jam.
Toss the apple slices with the sugar and cinnamon. Arrange gently over top of the filling. Sprinkle with the slivered almonds.
Bake for 10 minutes, then reduce the oven temperature to 180*C/350*F/ gas mark 4. Bake for a further half an hour until the apples are tender. Cool in the pan before removing sides.
Serve cut into wedges with or without a dollop of whipped cream if desired! Store any leftovers in the refrigerator.
Did you make this recipe?
Tag @marierayner5530 on instagram and hashtag it #EnglishKitchenCreated using
The Recipes Generator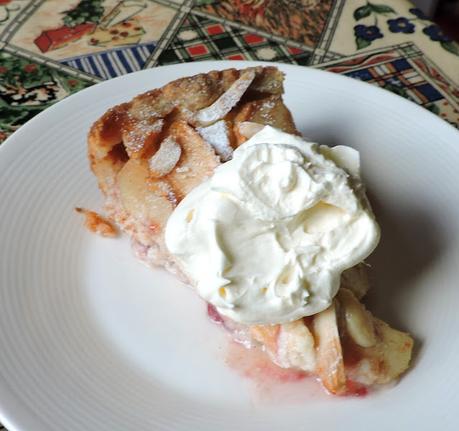 This content (written and photography) is the sole property of The English Kitchen. Any reposting or misuse is not permitted. If you are reading this elsewhere, please know that it is stolen content and you may report it to me at: mariealicejoan at aol dot com Thanks so much for visiting. Do come again!