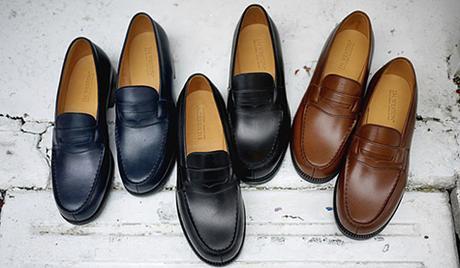 Even among classic shoes, some designs come and go, while others are a bit more enduring. In the world of slip-ons, few have been as iconic as Bass Weejuns, Gucci horsebits, and Alden's tassel loafers. They were all firsts in their respective categories, spawning dozens of imitators until their styles were considered generic. 
Although not as well-known in Anglo countries, JM Weston's 180 loafers are equally well-regarded in France and Japan. Theirs is a French take on an American classic. The "Weston" part of the company's name is actually comes from a Boston suburb, near where the company's founder originally studied shoemaking. Given that the French company has American roots, it's no surprise that their flagship model should be inspired by American design. 
The 180 is instantly recognizable, with its split toes, high side walls, and curly-Q penny slots. The style was made famous in the 1960s, when post-Beatnik Parisian youths wore it to the Le Drugstore on Boulevard St. Germain, and later when French Presidents wore them on the weekends. Francois Mitterrand is said to own thirty pairs of identical Weston loafers in kidskin, while Jacques Chirac supposedly wears the same style in calf. And as fashion goes, with popularity comes imitation. A number of shoe companies – from Crockett & Jones to Bexley – have come up with similar high side-wall designs. 
I recently picked up a pair find they go excellently with jeans and thin leather jackets. The slightly chunkier silhouette has air of casualness to it, while remaining a bit more refined than many American models. They're perfect for the kind of tailored-looking casualwear that many Italian labels specialize in. 
They do have two downsides, however. First, their sizing is tricky, so it's best to buy from a place that will take returns or exchanges (in the US, they're available at Mr. Porter and JM Weston's own store in NYC). Second, they're famously tough to break-in and require a couple of months of committed wear before they start to feel comfortable. The company recently released a softer, unstructured version of the same shoe, but it's hard to beat the originals.