Cake mixes have progressed a long way since they first came on the cooking scene in the 1950s. They've certainly improved over the decades. When cake mixes emerged on the grocer's shelves, they redefined baking. For a quick read on the history of cake mixes, check out this Bon Appetite article. Really interesting. Now, while I love making cakes from total scratch, sometimes I just have to have shortcuts. And, a cake mix is the way to go! This french vanilla almond cake is nothing like the cake mix. You're going to gussy it up with pineapple juice and cream cheese. Now, that might just make it over the top for easy cakes!
This almond cake is quite moist and fresh tasting. And, it really is better on day two after it sits and just comes together after baking. Perfect for breakfast, it also can be that cake you serve, maybe just a sliver, with some chilled Greek yogurt and a drizzle of pure honey. Fresh fruit always goes with almond cake as does a dollop of whipped cream.
Now, I baked this cake in a springform pan, but you certainly could bake it in a bundt pan or in regular square, rectangle or round baking pans. Just adjust your baking time for the type of pan you're using.
Here's another springform pan 'cake' I make, totally from scratch! It even won me a spot on Hallmark Channel's 'Home & Family TV' 'Best Home Cooks'. You won't be disappointed!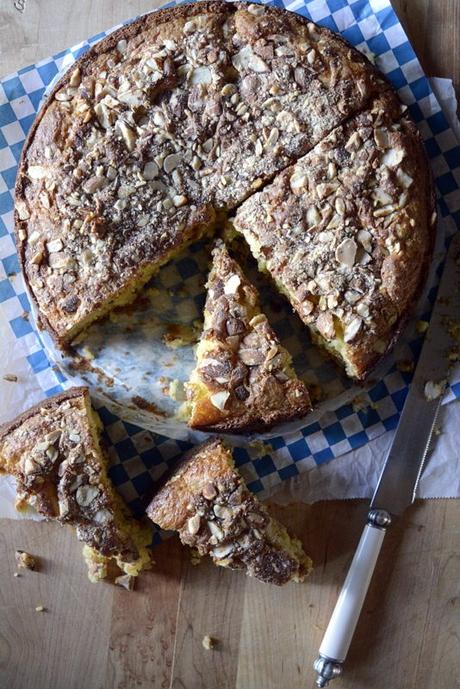 Ingredients
Preheat oven to 350
2 cups almonds, roughly crushed in food processor, set aside, divided
1 (16.5 oz.) cake mix, French Vanilla Duncan Hines or can substitute white or yellow
1 (3.5 oz.) vanilla pudding & pie mix
1 ½ cups pineapple juice
1/3 cup oil
3 eggs, beaten
1 Tbl. Vanilla extract
8 oz. whipped cream cheese, room temperature
Instructions