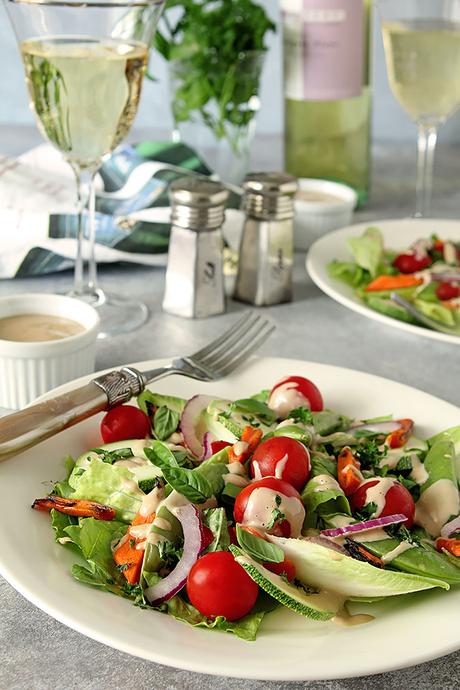 While I include a lot of salads in my meal plans, I seldom think to include recipes for them here. They are most often the result of opening the fridge and grabbing a bit of this or that and whipping together a simple salad dressing. I keep a couple of prepared products on hand too for a really quick meal; I love an orange poppyseed dressing from Safeway's private label and another brand's raspberry vinaigrette. My proclivity for greens with fruit shows in the dressings I prefer too.

This photo of The French Laundry is courtesy of TripAdvisor
Occasionally though I see something I want to make that uses fresh garden veggies and I was taken with this salad and the dressing from the moment my eyes met the page with an issue of Food & Wine magazine from 2016. I am SO far behind with my reading but so very glad I kept this one around. The French Laundry restaurant in Napa is reknown so having a recipe bestowed in those pages from the proprietor Thomas Keller was like a gift. One he didn't even have to wrap!
While the salad components sounded wonderful; they would also have required that I source a lot of ingredients I did not have on hand. Considering that it's the end of summer and I have so many fresh ingredients in my fridge, I substituted pretty freely. I've included Chef Keller's recipe list of ingredients but use your judgement and do the same...not much can go wrong. I used romaine, endive, zucchini, homegrown cherry tomatoes, some grilled carrots, sugar snap peas, red onion, and both parsley and basil from my herb garden.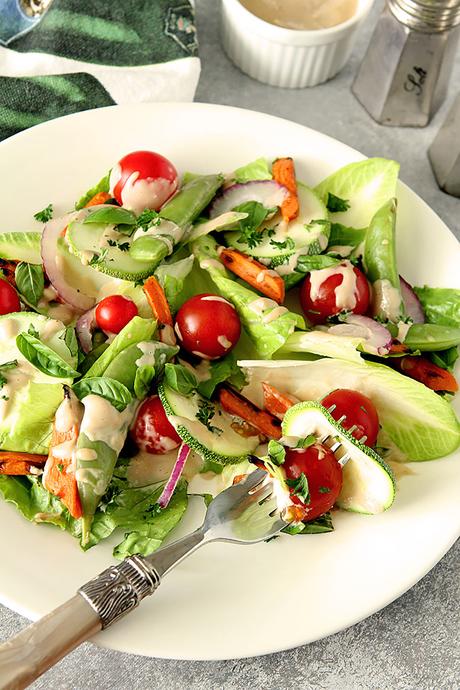 The fresh ingredients were certainly a great beginning but it's this dressing that is so stellar. Recipes are funny sometimes. There is nothing so special in the list of ingredients and yet the end result is perfection. I've made so many salad dressings over the years and yet not one quite like this. Dijon mustard, garlic, balsamic vinegar, shallots, olive oil...nothing all that unique. The raw egg yolk certainly makes for a smooth, rich consistency and I urge you to try it. It can be left out but the result will lose some of the richness of flavor that makes it over the top wonderful.
Don't limit this salad to summer; the flavor of the dressing would be great with any number of veggies...I'm thinking some roasted squash would be a great fall addition...use your imagination and go crazy!
Take a trip to California wine country without leaving your home kitchen; you won't regret it; promise.
French Laundry Summer Salad with Mustard Vinaigrette
Ingredients
For the Dressing
large egg yolk
tablespoons Dijon mustard
Tbsp plus 1 tsp balsamic vinegar
large garlic clove, minced
small shallot, minced
Tbsp water
cup canola oil
cup extra-virgin olive oil
Kosher salt
Pepper
For the Salad
breakfast radishes
ounces radicchio, leaves torn into large pieces
ounces small tomatoes, quartered
small red endive, leaves separated
ounces baby zucchini, halved
ounces sugar snap peas, trimmed and halved if large
ounces baby carrots, halved lengthwise
Persian cucumber, thinly sliced
thin asparagus spears, cut into 3-inch pieces
ounce baby arugula (2 cups)
Kosher salt
Pepper
Mixed herbs, such as basil and chervil, for garnish
Instructions
Make the vinaigrette
In a food processor, combine the first 5 ingredients with 2 tablespoons of water. With the machine on, drizzle in both oils until incorporated. For a thinner vinaigrette, stir in another 1 to 2 tablespoons of water. Season with salt and pepper.
Make the salad
In a bowl, toss all of the ingredients except the herbs. Season with salt and pepper. Toss with 1/4 cup of the vinaigrette. Garnish with herbs and serve with more dressing on the side; reserve the remaining dressing for another salad.