French Apple Cake
…
so while the rest of the world starts 2016 with the usual healthy eats, we over here have a cake
!!...
but wait, it has fruits
…
that's good enough to begin with, no
?
J
  Okay, so last year, around August I discovered this David Lebovitz's recipe and it is absolutely fabulous
…
honestly, cooked apple never tasted this good
…
ultra moist and golden brown
...
and that hint of rum, does magic
!!...
one of the easiest cakes recipe
...t
his has been made plenty of times since then
...
careful though, it has a tendency to disappear within minutes
…
cheers to a Happy, Healthy, Peaceful and a Fruity New year
!!
J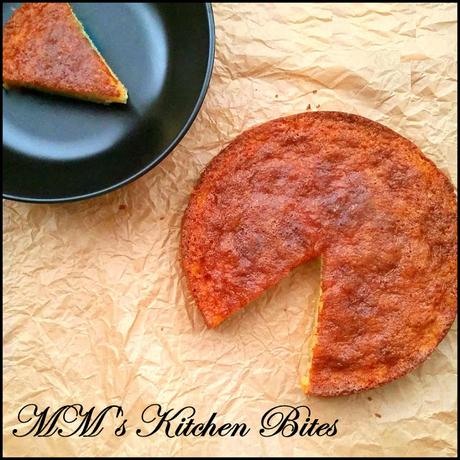 French Apple Cake
Ingredients:
Regular All Purpose flour/Maida, 110gms

Baking powder, ¾ tsp

Salt, a pinch

Apples, 3-4 large ( any variety would do, the original recipes calls for 4 but in the one pictured here I had only 3 on hand; 4 apples work well for people who like/love cooked apples whereas 3 work very well for those who don't!)

Vanilla Extract, ½ tsp (optional)

Regular All Purpose flour/Maida, 1 tbsp

Eggs, 2 large

Granulated sugar, 150gms

Dark Rum, 3 tbsp (optional but strongly recommend to use it, rum does wonders to this one

...

oh well, rum does wonders to everything

!!

)

Vanilla Extract, ½ tsp (if skipping rum increase to 1 tsp, and don't worry, the cake still tastes yum even without the rum)

Butter, salted or unsalted, melted and cooled to room temperature, 115gms (if using salted butter, skip the salt mentioned above in the ingredient list)
Instructions:
Preheat the oven to 180 degrees C.
Heavily butter an 8 or 9 inch springform pan and place it on a baking sheet.
Wash, peel, core the apples and then dice them – about 1 inch long pieces for people who like/love cooked apples whereas ½ inch long pieces work better for those who don't
!
Toss the apples with ½ tsp of vanilla extract and then 1tbsp of flour. Keep aside.

In a separate bowl, whisk the eggs till foamy. Add in the sugar, rum and vanilla extract and whisk well for a couple of a minutes.
Stir in half of the flour mixture, and when it is incorporated, add in half of the melted butter, followed by rest of the flour and the remaining butter, mixing after each additions. 
Gently fold in the diced apples until they're well-coated with the batter.
Scrape the mixture into the prepared pan and smooth the top a little with a spatula.
Place the baking sheet into the middle rack of the oven and bake for 50 minutes to 1 hour, or till a toothpick inserted in the center of the cake comes out clean.
Let the cake cool for 5 minutes. Run a knife around the edge of the pan to loosen the cake from the pan and carefully remove the sides of the cake pan, making sure no apples are stuck to it.
Best served warm by itself or with a dollop of vanilla ice cream. Great at room temperature as well.
According to David Lebovitz, the cake will keep for up to 3 days covered but I have never had the chance to find out
!!