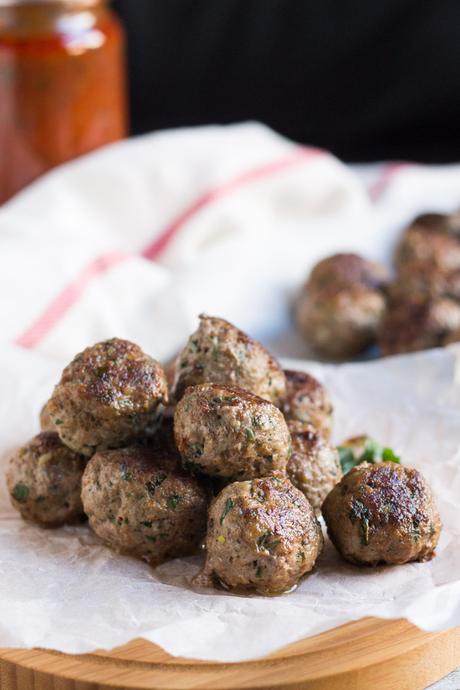 Even before I embarked on my current obsession with freezer cooking, I already had a couple of firm freezer favourites up my sleeve. Tucked alongside the chicken schnitzel will always be at least one serve of these Freezer Friendly Italian Meatballs.
These meatballs found their way into my trusty recipe book via Janice. Although, as with the pasta sauce, she gave me only a loose idea for their creation rather than a firm recipe. Years later, whilst we were talking about how useful the recipe was, Janice made mention of crumbing the meatballs - a slight detail she had managed to leave out of her original transcript. As I had already been making these for a few years without a breadcrumb layer, I haven't bothered to add this step in. Janice tells me that I am missing out, so feel free to crumb them before frying if you wish.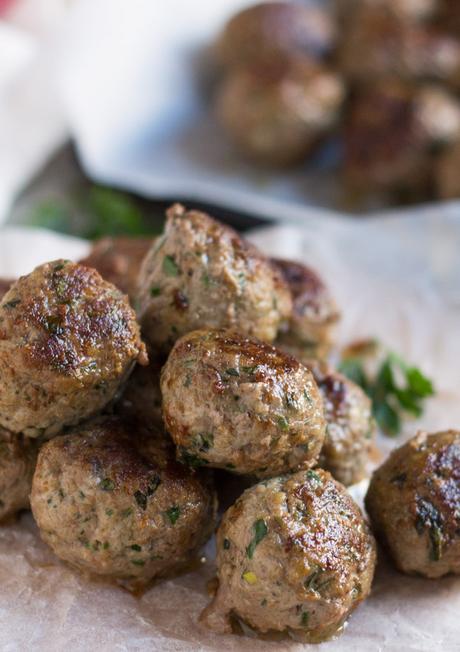 I usually double or triple this recipe whenever I make it. There is not a huge amount of additional work involved in rolling and frying the extra meatballs, and doing so means future meals in the freezer. To freeze the meatballs, place a single layer onto a tray, and place in the freezer until firm. Make sure you line the tray with baking paper to ensure the meatballs don't stick to the tray during the freezing process (Not that I would know about that). Once hard, pack the meatballs in meal size portions in labelled zip lock bags.
My favourite way to serve these meatballs is to bake them in Slow Cooked Tomato Pasta Sauce. I mix the meatballs and pasta sauce together in a shallow casserole dish, scatter over (lots of) grated mozzarella and Parmesan cheese, and bake at 180C for about 30-40 minutes, or until the top is browned and the sauce is bubbling. All I need to do is cook spaghetti whilst the meatballs are in the oven.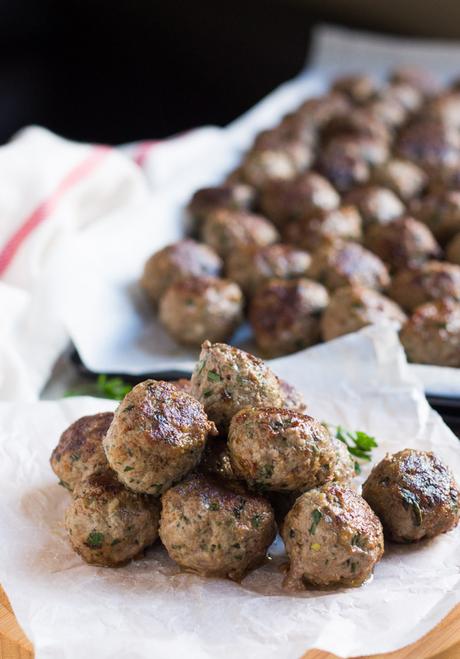 If I am short on time, I simmer the meatballs in a jar of sauce whilst the pasta is cooking. I do try to defrost the meatballs beforehand, however I have cooked them from frozen with no problems. Just allow a slightly longer cooking time. Leftover meatballs make a great lunch. Split a long bread roll in half, tuck the saucy meatballs into the roll, scatter over some grated cheese, wrap in foil and heat through in the oven. Yum!

Freezer Friendly Italian Meatballs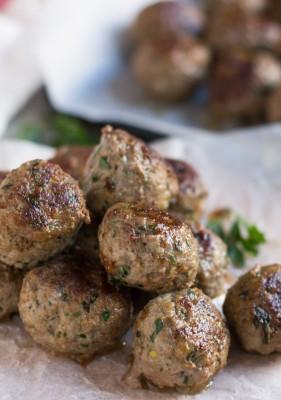 Author: Tania @ The Cook's Pyjamas
½ cup fresh breadcrumbs
3 Tablespoons milk (approximately)
500g pork/veal mix (or beef mix)
1 large garlic clove, crushed
1 egg
3 Tablespoons chopped fresh herbs (I used parsley, rosemary, basil, oregano)*
Salt & pepper
Olive oil for frying
Place the breadcrumbs in a bowl and pour over the milk.
Allow to soak for 5 minutes.
Place the mince, garlic, egg and the chopped herbs in a large bowl.
Season with salt and pepper, and mix thoroughly.
Squeeze the milk out of the breadcrumbs. Discard the milk, and add the breadcrumbs to the mince mixture.
Mix the breadcrumbs thoroughly into the mince mixture.
Take Tablespoons of the mince mixture and form into small balls.
Heat the olive oil in a fry pan over medium heat.
Fry the meatballs in batches until they are browned on all sides. The meatballs are not completely cooked at this stage.
The meatballs can now be frozen. Allow them to cool, then flash freeze# before packing into individual serves.
To eat immediately, simmer the meatballs in pasta sauce or add to your favourite recipe.