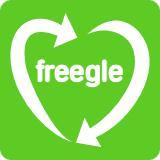 The Freegle premise is simple, don't throw it away – give it away. Freegle encourages and connects people who are looking to give their unwanted goods a new home. People all over the country have used Freegle to search for an item, gratefully finding that someone just around the corner has the item they are after. From your everyday furniture to even a WWII bomb shelter it has all appeared on Freegle.
Formed in 2009 Freegle is a voluntary organisation that inspires community spirit whilst also taking part in larger schemes such as working with City Councils to redistribute over 10 tonnes of office furniture and paraphernalia back into the community to start-ups, businesses, charities, community groups and residents.
Take a moment to enjoy their journey and be inspired to Freegle today.
---
Thanks for taking the time to speak to us today I know you are busy so let's begin
How would you describe Freegle?
It's an amazing organisation – all across the country people are making the world that little bit better by giving away things they no longer need to people who often wouldn't otherwise be able to get them. That's particularly important at the moment when there are so many economic pressures on people.
So Who makes up the Freegle team and how did you find each other?
Well, there are around a thousand volunteers spread all over the country, running their local groups. There's also a small team of volunteers doing work centrally – things like media, IT, approving new groups, and generally keeping the organisation running and working on a sustainable business model to ensure our continuation.
Generally people join a local Freegle group, and think that it's such an amazing idea that they'd like to get involved and help keep it running.
Sounds great, would you say there is a Freegle vision?
We'd like throwing away something that could be reused to become like drink-driving – something that responsible citizens just don't do.
We've got a long way to go, though – people are very aware of recycling now, but that's treating a manufactured object as scrap, so it's still a waste. People are aware of eBay and charity shops, but beyond that reuse hasn't really become a mainstream idea.
How many Freegle communities are there to date?
There are 383 groups across the UK, with more than 1.4 million members. It grows because it works for lots of different people, who might have different reasons – they might be downsizing or de-cluttering, they might just have moved into their first flat which is completely empty, they might be passionate about the environment, or they might just not want the hassle of going to the tip.
So what is the most Freegled item?
Furniture is pretty common – sofas, beds and so on. Baby things are very popular on some groups – they grow out of them before they're worn out, so it would be a waste to throw them away, but people might not happen to know someone who needs them. That's where we come in.
With such an array of items I am sure people will be wondering what the strangest item you have seen Freegled is?
We had a World War II air raid shelter on one group – it had been in someone's garden and they wanted a bit more space for potatoes. One group had a yacht, which went to a local youth project.
Wow didn't expect to hear that! What current projects are you working on?
We're working on a mobile app – we'd really love that, but it's moving slowly because we have no funding so we have to rely on finding volunteers with the right skills. If there are any professional app developers reading or anyone with a big bag of money going spare, do get in touch!
In Brighton we have been Freegling on behalf of the City Council during their building refurbishment and going paperless programme. This has redistributed over 10 tonnes of office furniture and paraphernalia back into the community to start-ups, businesses, charities, community groups and residents.
The University of Brighton have also employed Freegle to assist with procuring materials for theirWaste House project
For the normal person it may seem like a time labouring task sourcing items they need – is this accurate?
Well, it's a lot easier reading emails than spending hours trudging round shops! And if there's a particular thing that you need then our new Freegle Direct platform lets you set up an alert for it.
It's often easier and cheaper to give something away than throw it away – someone collects it at a time that's convenient to you, and you don't have to pay the council a fee.
Plus its lots more fun and you meet people from your local community.
How much importance would you place on the role of the community in developing a sustainable eco structure?
There are some things that need to come from government – for example, until councils have to report on the amount of waste that they reuse rather than just recycle, reuse will always struggle because there's an incentive to recycle something instead, because that's the target you're reporting on. Government could also incentivise reuse through tax or VAT breaks.
But we as individuals can do a lot through the choices that we make. Every time we think "Oh, that's rubbish, nobody would want that" we can just stop – and offer it up, to see whether someone else would actually want it. People find amazing ways to use things that you just wouldn't expect.
The work done with Grand Designs at Eco Build was a fantastic eye opener for many, what lessons do you think people can take from this and implement in their own homes?
Construction waste accounts for about 60% of all waste in UK . Citizens can contribute to reducing this figure when doing DIY and home improvements by not 'over buying' materials, to buy goods that last a long time, that are made from recycled materials and ensure that they don't throw away old or leftover goods and materials when they buy new (let someone else reuse them via Freegle for example). Separating unwanted materials rather than dumping them higgledy piggledy in a skip means they are more likely to be reusable and not discarded. Allow time and space to be resourceful with materials. Wasteful action often comes about because of lack of planning and a desire for instant gratification-think ahead!
Another Brighton example is Bright Green Homes, who use Freegle to redistribute goods before doing eco-refurbishments. This reduces their skip quota by over 50%, saves the project money and helps the local community.
As another example, it is now possible to hire for a w/e a 'put up a bookshelf kit' for example from B&Q rather than buy a brand new electrical item , use it once and leave it to languish in a cupboard for years.
If you could take a moment to think of how you would imagine homes to be made in the future what would you firstly like developers and secondly buyers to consider?
For starters, developers and builders need to value people and planet and not just profit. Having procurement procedures and supply chains in place that consider environmental impact and not just financial expediency are essential. There are industry guidelines, standards and environmental management systems that enable this. Buy local, buy materials made from recycled materials or with durability, reuse 'waste' on site reducing need for transport and high energy recycling off-site.
Investment is needed to set up Reuse It Yourself (RE-IY) depots around the UK-to systemise and facilitate easy reuse of construction materials. This has the added bonus of creating jobs. Reuse requires space and time which is currently not part of building sector infrastructre
But for this to happen it needs support and commitment from local and national government. There are good examples of how Councils can accelerate sustainability into local building ethos in Brighton sustainability checklist and Bio Regional Pushing Reuse.
Thanks for your time.