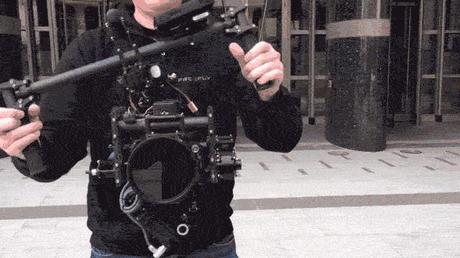 Anybody who's serious about video understands that image stabilization is everything. You want cool, smooth movements to help enhance the visuals. But getting that non-shaky video is often tricky. Low cost solutions costs a few hundred dollars but takes hours upon hours of mastering how to first balance the camera and then move with it. More costly solutions like the almighty Steadicam can run in the 10′s of thousands and can weigh as much as a growing child. Not to mention the steep learning curve involved to master it.
Pre-orders should be opening up this week, and Movi is expected to ship to customers beginning in Q3. At 15 grand, this version is obviously priced far out of reach of consumers, but a significantly more affordable model is in the cards, designed for more compact cameras, such as mirrorless models and DSLRs. Still, the first iteration is a relative bargain for filmmakers who would otherwise be unable to capture steady shots while skiing down a hill, sprinting down the street, running down stairs or even walking a trade show floor.
The man who has helped instigate the Movi craze, Vincent Laforet had this to say about the revolutionary contraption:
…any filmmaker – professional or amateur – will tell you that gravity is all too often a cruel reminder of how hard taking flight can be.   Moving a camera in a steady path is one of the biggest challenges for all of us.

That is until you hold the handheld "MōVI" device in your hands and run, or drive, or fly only to see your clumsiness and bumps turned into a near perfect trajectory – thanks to insanely fascinating technology of gyro stabilization and accelerometers.  The "MōVI" produced by Freefly Systems based in Seattle WA.,  is a digital 3-axis gyro-stabilized handheld camera gimbal.

The completely silent device weighs under 3.5 pounds bare and can be operated solo, or with the help of a second "gimbal" operator with a joystick to pull off some incredible moves.

It will be affordable – the initial mid-level (in terms of weight support) MōVI M10 will sell for approx $15K and is already under production.   The second, smaller version, the M5 that will be on sale at some point in the near future (once the production capacity is in full swing) will be sold for a price point under $7,500.    If you consider how much we spend on handheld rigs, sliders, jibs (let alone Glidecams/Steadicams etc.) – the price of this device quickly becomes a no-brainer…  Another huge factor:  it takes quite a bit of time to set up a JIB, let alone weights, crew and skill to operate.  The learning curve on this unit is very very fast.

Vincent Laforet
Vincent's post is noteworthy, convincing and worth the read, but the real selling feature is in the video he directs using this fantastic gadget:
Obviously this is a game changer. What makes this news even cooler is that Freefly has decided to give away two Movis!!
UPDATE: This launch has been as much if not more fun that the Reverie / Canon 5D MKII for me and Freeflysystems!  

With nearly 1 million video views in under two days it's deja vu all over again for me but just as sweet and special (and unexpected [this fast!]), and for Tabb who was featured in the video,  he's getting used to being recognized on commercial flights and contacted by old high school friends…

To share in our excitement and the overwhelming reaction by the video/film community – we're gonna go ahead and GIVE TWO OF THEM AWAY.  

Sooo… How do you qualify?   Well the truth is that we're simply too busy to come up with a creative challenge / contest / film or shot ideas right now (not to mention going through them.)

So we'll make it super simple - simply follow BOTH @Freeflycinema and me @vincentlaforet  and we've got a pretty darn neat way of picking the winner… it may have something to do with a remote, altitude and general craziness!  It's just that simple and necessary legal jargon: no purchase necessary to win.