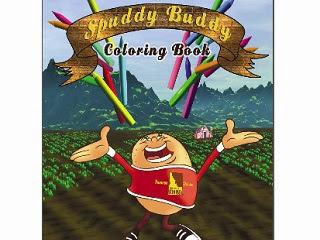 Kid-Friendly Recipes:
One potato...two potato...three potato...four... I want more!!
Here are a few favorite recipes kids of all ages will love. And, with a little help from Mom or Dad, you can even make them yourself!
• Idaho® Potato Cheesy Biscuit Scramble
• Sizzlin' Spuds
• Pigs in Idaho® Potato Blankets
• Baked Idaho® Potato Fries and Kid-Friendly Dipping Sauces
• Idaho® Potato Crusted Pizza
• Chocolate Chip Idaho® Potato Poppers
• Twice Baked Idaho® Potatoes with Sausage and Cheese
Activities for Kids:
• Bouncin' Taters! Game - Join Spuddy on his latest adventure!
• Word Search Game - Three different levels to challenge your skills.
• Coloring Book - Color in Spuddy! The
Spuddy Buddy Coloring Book
is full of pages of everyone's favorite Spuddy.
• Harvest Adventure Online Game - Your adventure starts here!
Downloads:
• Farm to Fork Maze (pdf)
• Word Search (pdf)
• Test Your Skills (pdf)
• Coloring Book (pdf)
ALL FREE
from the
Idaho Potato Commission
!
Click for kid games and colouring book
(Worldwide)
---
QUICK FREEBIE TIP:
Reader tip submitted: Not valid in Quebec? Try putting in your postal code, but another province instead of Quebec. It is hit or miss, but she says sometimes she gets the freebie - because the post office sorts by postal code, not province. Let your conscience be your guide on this.
Click for more quick freebie tips
---
---
•
Enjoying all the freebies? Want to keep up with the latest free stuff, deals, coupons, and other ways to save money? Subscribe to
Frugal Freebies'
email updates or RSS Feed
! - it's free!
•
Check us out on Twitter, and join in the conversation of even more great freebies, deals and coupons on our
Frugal Freebies
fan page on Facebook and
Google+. We are even on Pinterest!
More Frugal Blogs and Websites:
•
Born to Love: All your cloth diapering needs, and much more - naturally! We are strong advocates of the personal, social and environmental benefits of natural parenting.
•
Frugal Baby Tips: Money-saving tips on diapering, diaper washing, safety, slings and baby carriers, toys, clothing, nursing, menstrual needs, traveling with kids, more!