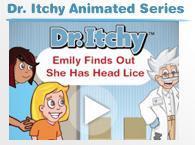 Teach your kids about head lice with
Yikes-Lice!
by Donna Caffey and Patrick Girouard. This fun and engaging children's book uses rhyming verses to tell the story of how a young girl overcomes head lice with the help of her parents.
Dr. Itchy Animated Series: Emily Finds Out She Has Head Lice
With the help of the school nurse, Dr. Itchy helps Emily understand what it means to have head lice.
Watch the video
Dr. Itchy Animated Series: Emily Gets Treated for Head Lice
Dr. Itchy helps Emily and her mom remove those pesky head lice.
Watch the video
Dr. Itchy and Friends Coloring Pages
Color pictures of Dr. Itchy, Clouse the Louse, Nit-Wit and more! These coloring pages are easy to print and easy to share.
Download all the characters in PDF format
Click for Yikes Lice! children's book
(US only)
---
QUICK FREEBIE TIP:

Don't forget to sign up for free money! Zoombucks are free digital dollars that you can trade for over 100 brand name gift cards.
Click for more quick freebie tips
---
◊
Enjoying all the freebies? Want to keep up with the latest free stuff, deals, coupons, and other ways to save money? Subscribe to
Frugal Freebies'
email updates or RSS Feed
! - it's free!
◊
Check us out on Twitter and join in the conversation of even more great freebies, deals and coupons on our
Frugal Freebies
fan page on Facebook.