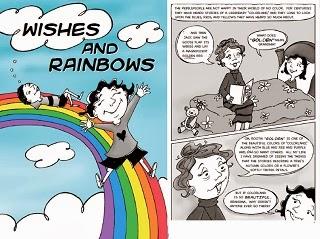 The
US Federal Reserve
suffers an economic crisis and they offer the world free Comic Books? Why?
Because comic books are cool, and the country that helped start the global meltdown wants to teach the world about finances through the use of comic books, clever eh?
This children's book explores the economic problem of scarce resources and society's reactions to such problems. The book stimulates students' imagination as they explore the economic problem of scarce resources, various methods of allocation, and how societies react to alleviate such problems.
Click for free comic book
(Worldwide)
• Classroom Resources - Grade=K-4

• Classroom Resources - Grade=5-8

• Classroom Resources - Grade=9-12Games and Simulations:
Interactive games and simulations created throughout the Federal Reserve System. You can search by title, grade, topic and more.
More Free Publications:
View, print and order Federal Reserve publications for teachers, students and the public. You can search by title, grade, topic and more.
---
QUICK FREEBIE TIP:
Is that coupon real or fake? Fraudulent coupons hurt us all! If you received a printable coupon that looks too good to be true; it may be! Free product coupons that can be printed more than once should set off a red flag for you, unless the coupon can be found on the manufacturer's website. You can visit the Coupon Information Center to verify the authenticity of any coupon.
Click for more quick freebie tips
---
•
Enjoying all the freebies? Want to keep up with the latest free stuff, deals, coupons, and other ways to save money? Subscribe to
Frugal Freebies'
email updates or RSS Feed
! - it's free!
•
Check us out on Twitter, and join in the conversation of even more great freebies, deals and coupons on our
Frugal Freebies
fan page on Facebook and
Google+. We are even on Pinterest!
More Frugal Blogs and Websites:
•
Born to Love: All your cloth diapering needs, and much more - naturally! We are strong advocates of the personal, social and environmental benefits of natural parenting.
•
Frugal Baby Tips: Money-saving tips on diapering, diaper washing, safety, slings and baby carriers, toys, clothing, nursing, menstrual needs, traveling with kids, more!
•
Jamberry Nails: The hottest trend in nail design. Get high-end nail art without the fuss of polish - or expensive salon visits! Like us on Facebook!
•
Oshawa Journal: A Step Back in Time to the Village of Oshawa - historical family timelines, news clippings, birth/marriage/death/grave records, photos and stories of the people I am researching, as well as the history of streets and houses in the village of Oshawa.