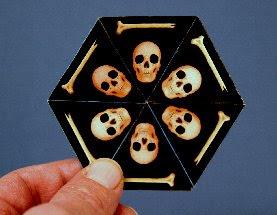 Make this Skull Flipper toy - a flat two sided paper toy, capable of displaying six different patterns, one on each side.
Yes, you read that right... two sides, and yet six patterns.
Just how is such an astonishing thing possible?
Does this odd little toy somehow alter the known laws of physics?
Does it bend reality in some strange way?
Could playing with this thing endanger the very fabric of time and space?
Well, I'm not sure...
But it's very easy to print and build, and you will have lots of fun flipping it around!
Click for free Skull Flipper toy
(Worldwide)
---
---
QUICK FREEBIE TIP:

When the site asks where you heard about them, say friend/family, not a freebie site. Right-clicking and copying the link location and pasting it in a new browser, rather than clicking the link can help too. Sometimes they won't send if they know you came from a freebie site.
Click for more quick freebie tips
---
•
Enjoying all the freebies? Want to keep up with the latest free stuff, deals, coupons, and other ways to save money? Subscribe to
Frugal Freebies
'
email updates
or RSS Feed! - it's free!
•
Check us out on
Twitter
, and join in the conversation of even more great freebies, deals and coupons on our
Frugal Freebies
fan page on
Facebook
and
Google+
. We are even on
Pinterest
!