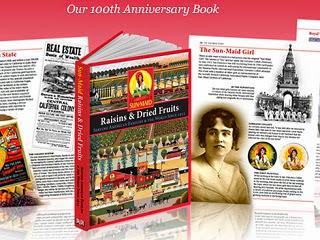 Get your free download of Sun-Maid Raisins and Dried Fruits - for your iPhone, iPad or PDF file.
Their 100th Anniversary Book One was hundred years in the making.
Sun-Maid's century of experience answers all your questions on raisins and dried fruits — their unique characteristics, their history, and how they are grown, processed, marketed, and enjoyed throughout the world.
Click for more info
(Worldwide)
---
QUICK FREEBIE TIP:
Have realistic expectations: While I try very hard to only provide links to legitimate offers, sometimes the freebies still don't arrive. This could be because the company did not having a large enough supply to cover the response they got. It is also possible that a spammer has set up a site to gather email addresses

(another important reason to use an alternate email account)

and never intended to send you a freebie at all. Be aware that this can happen and although I do my best to avoid such sites, it is a part of getting freebies over the Internet
Click for more quick freebie tips
---
---
NOTE -
If any of the above links are not working or the freebies or coupons no longer available, please post a blog comment below and I'll edit it!
---
•
Enjoying all the freebies? Want to keep up with the latest free stuff, deals, coupons, and other ways to save money? Subscribe to
Frugal Freebies'
email updates or RSS Feed
! - it's free!
•
Check us out on Twitter, and join in the conversation of even more great freebies, deals and coupons on our
Frugal Freebies
fan page on Facebook and
Google+. We are even on Pinterest!
More Frugal Blogs and Websites:
•
Born to Love: All your cloth diapering needs, and much more - naturally! We are strong advocates of the personal, social and environmental benefits of natural parenting.
•
Frugal Baby Tips: Money-saving tips on diapering, diaper washing, safety, slings and baby carriers, toys, clothing, nursing, menstrual needs, traveling with kids, more!