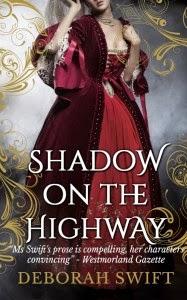 May 1651. 
England has been in the midst of a civil war for nearly ten years.
The country has been torn in two, and the King is getting ready to make his last stand against Cromwell's New Model Army. Abigail Chaplin, a young deaf girl, has lost her father to the parliamentarian cause, but with her family now in reduced circumstances, she is forced to work as a servant at a royalist household - the estate of Lady Katherine Fanshawe. Abi is soon caught up in a web of sinister secrets which surround the Fanshawe estate, the most curious of which is the disappearance of Lady Katherine late at night.
Why are her husband's clothes worn and muddy even though he hasn't been home for weeks?
How is she stealing out of the house late at night when her room is being guarded? And what is her involvement with the robberies being committed by the mysterious Silent Highwayman?
Shadow On The Highway, the first book in 'The Highway Trilogy', is based on the life and legend of Lady Katherine Fanshawe, the highwaywoman, sometimes known as 'The Wicked Lady'. Suitable for teens and young adults 14+ includes historical notes from the author 
Includes historical notes from the author.
SHADOW ON THE HIGHWAY is the stand-alone first part of The Highway Trilogy.
GRAB YOUR FREE COPY AT AMAZON.CO.UK
OR AMAZON.COM BY THE END OF THIS WEEK!
About the author
Deborah Swift used to work in the theater and at the BBC as a set and costume designer, before studying for an MA in Creative Writing in 2007. She lives in a beautiful area of Lancashire near the Lake District National Park. Her first novel The Lady's Slipper, about conflict arising over the rare orchid of that name, was published in 2010.