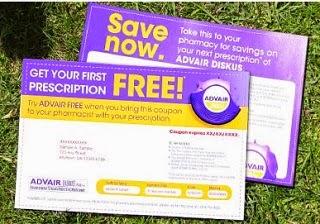 Sign up and receive money-saving offers and tips to help manage your asthma.
You may be eligible for a coupon to help reduce the cost of ADVAIR.
Fill out their form to instantly receive a coupon to save on the cost of your next prescription or refill.*
Then, simply take the coupon and your prescription to your pharmacy.
This program is only available to residents of the United States and US territories, where specified. Individuals who are enrolled in a government program and/or eligible for Medicare are not eligible for savings offers. If your insurance changes, you may no longer be eligible to use this coupon.
Offer limited to one coupon per person per purchase.
Click to sign up
(US only)
Click for more medicine savings!
For more information and to view the savings offer, click on the appropriate medicine below:
• ADVAIR
• ANORO Ellipta
• ARNUITY Ellipta
• BREO Ellipta
• INCRUSE Ellipta
• LEVITRA
• TRELEGY Ellipta
In addition to money-saving offers, many of these GSK sites also offer free educational information and tools. Consumers can sign up for these offers online, or call toll-free for more information at 1-866-GSK-FOR-U (1-866-475-3678)
---
NOTE -
If any of the above links are not working or the freebies or coupons no longer available, please post a blog comment below and I'll edit it!
---