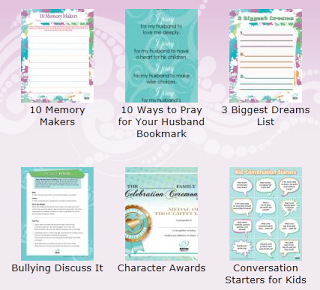 iMom
has some great printables - useful worksheets, training, lists and help to build strong relationships!
These are downloadable tools to help moms in their most important role – being a mom!
•
Seasonal Printables
•
Trainable Printables
•
Get Oraganized
•
Build Relationships
•
Conversation Starters
Click for free printables
(Worldwide)
NOTE -
If any of the above links are not working or the freebies or coupons no longer available, please post a blog comment below and I'll edit it!
---
---
QUICK FREEBIE TIP:
When the site asks where you heard about them, say friend/family, not a freebie site. Right-clicking and copying the link location and pasting it in a new browser, rather than clicking the link can help too. Sometimes they won't send if they know you came from a freebie site.
Click for more quick freebie tips
---
◊
Enjoying all the freebies? Want to keep up with the latest free stuff, deals, coupons, and other ways to save money? Subscribe to
Frugal Freebies'
email updates or RSS Feed
! - it's free!
◊
Check us out on Twitter, and join in the conversation of even more great freebies, deals and coupons on our
Frugal Freebies
fan page on Facebook and
Google+. We are even on Pinterest!