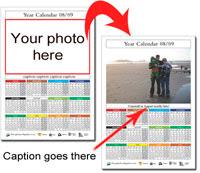 Show one or many photos off and create a FREE printable one page personalized photo calendar.
Just upload a photo, write a headline, and they will send you a neat personalized portrait calendar by email.  
Their system lets you upload a picture and add a line of text to their one page calendar.
You receive the finished calendar by email.
It's a PDF so you can print it easily, and you can send it around to friends and family for them to print too.
Click for free calendar
(Worldwide)
NOTE -
If any of the above links are not working or the freebies or coupons no longer available, please post a blog comment below and I'll edit it!
---
---
QUICK FREEBIE TIP:
Scam.com is your first choice if you are a true freebie hunter and want to research if some freebie is a valid one. 419eater is an active freebie hunter discussion board. PurPortal is a huge searchable database of scams which seems to be updated regularly. There are 4 sections: scams, urban legends, viruses and phishing sites.


PLUS:

List of freebie hunter sites that are spam, scam or phishing and 5,700 Chinese scams.
Click for more quick freebie tips
---
•
Enjoying all the freebies? Want to keep up with the latest free stuff, deals, coupons, and other ways to save money? Subscribe to
Frugal Freebies'
email updates or RSS Feed
! - it's free!
•
Check us out on Twitter, and join in the conversation of even more great freebies, deals and coupons on our
Frugal Freebies
fan page on Facebook and
Google+. We are even on Pinterest!