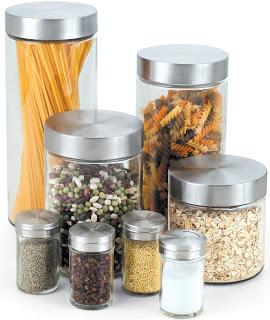 I make my gluten-free muffins often, so I like to have the ingredients close at hand, quick and easy to use.
I originally found these glass jars at the
Dollar Store
- you can also find them in a several different glass jar sets at
Amazon
.
My glass jars hold coconut flour, baking powder, date palm sugar, coffee and cinnamon to make my light and fluffy gluten-free blueberry muffins!
The linked recipe is a five minute microwave recipe for one - but I am working on perfecting an oven method for larger batches - so let me know if you are interested and I will post it!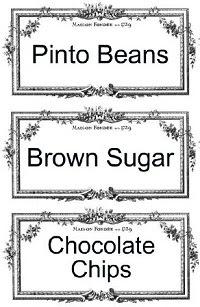 I've always meant to add some pretty labels to my jars, and so today I thought I would share the free printable labels I found with you!
Jes, of
StrangersandPilgrimsonEarth.com
has some beautiful pre-printed labels for you to grab: Pinto Beans, Brown Sugar, Chocolate Chips, Cornmeal, Sugar, Cereal, Rice, Powdered Sugar, Oat Flour, Whole Wheat Flour, Whole Oats, All Purpose Flour - as well as blank ones to create your own.
The ideal thing would be to use
clear labels
. With this template, you could just print them off on
clear full page labels
, and then cut your labels to size.
Or simply print on plain paper and paste or tape in place.
---
---
NOTE -
If any of the above links are not working or the freebies or coupons no longer available, please post a blog comment below and I'll edit it!
---
QUICK FREEBIE TIP:
All freebies are posted without prejudice. I have no political/religious/personal agenda to promote here, and I may not even agree with the message the freebie is promoting. But freebie censorship is not what this site is about. If you don't agree with the message a freebie is promoting, just pass on the freebie. The next one I find might be one you do believe in, and someone else might disagree.
Click for more quick freebie tips
---
•
Enjoying all the freebies? Want to keep up with the latest free stuff, deals, coupons, and other ways to save money? Subscribe to
Frugal Freebies'
email updates or RSS Feed
! - it's free!
•
Check us out on Twitter, and join in the conversation of even more great freebies, deals and coupons on our
Frugal Freebies
fan page on Facebook and
Google+. We are even on Pinterest!