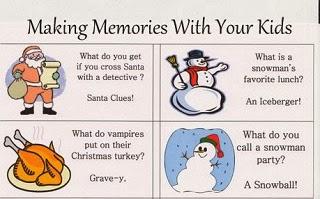 Make memories with your children - put jokes in their lunch box!
You might think that they don't read them, that they might think it's lame.
But stop putting a daily joke in their lunch and you just might hear...
"Mom, where was my joke?"
The following links should give you enough to last the whole school year!
• Christmas lunch box jokes
•
Thanksgiving lunch box jokes
•
Halloween Lunch Box Jokes
• Lunch Box Notes, including fun and love notes
• Lunch Box Jokes Collection
• More Lunch Box Jokes
---
QUICK FREEBIE TIP:
Remember, Frugal-Freebies.com doesn't give out the freebies, I only post the freebies I find on the net. To increase your chances of the freebies arriving in your mail, you could stick to the offers from the larger companies

(i.e.: Wal-Mart, P+G, Kroegers, Sam's Club, etc.).

However, lots of readers post on the Frugal Freebies forum saying they can't believe the amount of free stuff they've received in the mail, even though not every freebie will turn up from the other sites posted.
Click for more quick freebie tips
---
---
•
Enjoying all the freebies? Want to keep up with the latest free stuff, deals, coupons, and other ways to save money? Subscribe to
Frugal Freebies'
email updates or RSS Feed
! - it's free!
•
Check us out on Twitter, and join in the conversation of even more great freebies, deals and coupons on our
Frugal Freebies
fan page on Facebook and
Google+. We are even on Pinterest!
More Frugal Blogs and Websites:
•
Born to Love: All your cloth diapering needs, and much more - naturally! We are strong advocates of the personal, social and environmental benefits of natural parenting.
•
Frugal Baby Tips: Money-saving tips on diapering, diaper washing, safety, slings and baby carriers, toys, clothing, nursing, menstrual needs, traveling with kids, more!