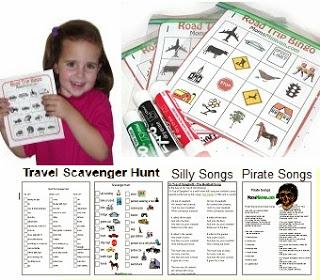 Traveling with kids? Be prepared with a few goodies to take with you.
It's not hard to plan ahead. Here is a link to items you can print and play. Stick them in the car and pull them out as a surprise.
Car Bingo
-- Here are two different Car Bingo games. Each has 4 different cards with the items scrambled up. Print enough for each person to have one from each game.
Pennies make good card markers, or you can print fresh ones for each trip and check off items with a pencil.
They will also fit into a quart sized zipper bag that you can write on with a dry erase marker.
You may even want to print these game sheets on cardstock paper and laminate them, so you can keep them in your box of travel goodies so they'll last for several trips.
More Free Printable Car Games:
Lines and Dots Game, Tic Tac Toe, Travel Scavenger Hunt, Battleships, Sing Along Song Lyrics, Instructions for String Games, Crazy Eights and Old Maid, License Plate Game.
More Free Printables:
Printable Coloring Pages, Printable Cootie Catcher (Fortune Teller), Travel Tickets, How Much Farther
Click for free printables
(Worldwide)
---
QUICK FREEBIE TIP:
Have realistic expectations: While I try very hard to only provide links to legitimate offers, sometimes the freebies still don't arrive. This could be because the company did not having a large enough supply to cover the response they got. It is also possible that a spammer has set up a site to gather email addresses

(another important reason to use an alternate email account)

and never intended to send you a freebie at all. Be aware that this can happen and although I do my best to avoid such sites, it is a part of getting freebies over the Internet. Click for more quick freebie tips
---