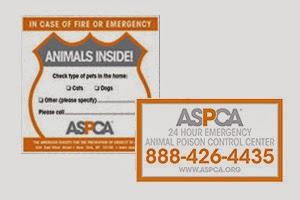 Alert people that pets are inside your home in the event of an emergency!
Help keep your pets safe with a free pet safety pack from the ASPCA!
In the event of an emergency, our pet rescue window decal alerts rescue personnel that pets are inside your home.
The safety pack also includes an ASPCA Animal Poison Control Center magnet—a great way to keep the APCC's toll-free emergency number and website address handy in case your pets get into something they shouldn't!
You should receive your free Pet Safety Pack in six to eight weeks.
Click for free safety pack
(US/Canada only)
NOTE -
If any of the above links are not working or the freebies or coupons no longer available, please post a blog comment below and I'll edit it!
---
QUICK FREEBIE TIP:
If you need an email address (or lots of addresses!) you can go to mail.com and create another one just for signing up for freebies.
Click for more quick freebie tips
---
---
•
Enjoying all the freebies? Want to keep up with the latest free stuff, deals, coupons, and other ways to save money? Subscribe to
Frugal Freebies'
email updates or RSS Feed
! - it's free!
•
Check us out on Twitter, and join in the conversation of even more great freebies, deals and coupons on our
Frugal Freebies
fan page on Facebook and
Google+. We are even on Pinterest!
More Frugal Blogs and Websites:
•
Born to Love: All your cloth diapering needs, and much more - naturally! We are strong advocates of the personal, social and environmental benefits of natural parenting.
•
Frugal Baby Tips: Money-saving tips on diapering, diaper washing, safety, slings and baby carriers, toys, clothing, nursing, menstrual needs, traveling with kids, more!