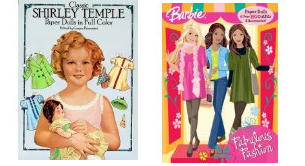 I loved paper dolls when I was a little girl - cutting them out, dressing them up!
Of course, they were expensive back then, so getting to play with them was few and far between.
But now you can print as many as you want - for free! You just need a computer and a printer.
Two previous paper doll posts:
•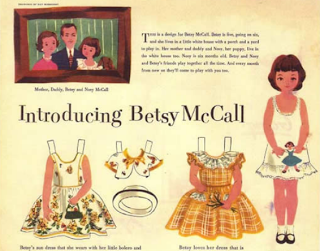 Free Betsy McCall Paper Dolls
-- Betsy McCall was announced in April of 1951 and first appeared on the pages of McCall's magazine in May, 1951.
•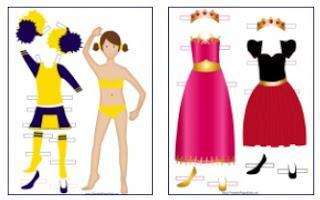 Free Paper Dolls
-- Choose from 30 paper dolls that you can download and print for free. Choose from boy dolls, girl dolls, ballerina dolls, cheerleader dolls, and more.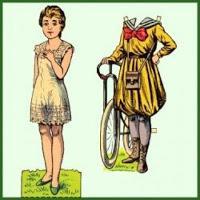 I also found a wonderful page listing all the best free paper dolls:
• Printable paper dolls coloring pages (people)
And if you don't have a printer, you can still buy some paper dolls on Amazon:
•

Famous African American Women Paper Dolls
-- 16 well-researched, accurately detailed dolls, each with one additional costume, represent such inspiring figures as Sojourner Truth, Mary McLeod Bethune, Zora Neale Hurston, Althea Gibson, Rosa Parks, Leontyne Price, Maya Angelou, Shirley Chisholm, Toni Morrison, and 7 others in an informative and inspiring collection. 32 color illustrations.
•

Flower Fairies Paper Dolls
-- With four different fairy dolls-two boys and two girls-and eight different outfits for them to wear, young girls will love this book. The dolls and clothes are fully perforated so they're easy to remove, and they're printed on sturdy card stock, so the dolls and clothes will last. An envelope is conveniently attached to the inside back cover for storing the pieces.
• My Book of Little House Paper Dolls: The Big Woods Collection

-- A playtime package for young Little House fans: six full-color paper dolls made of durable and sturdy card stock
(Laura, Mary, Ma, Pa, Baby Carrie, and Jack the bulldog)
; several easy-to-detach and authentic outfits for each character; two full-color pull-out scenes
(a cozy room inside the Little House and the garden outside)
; a special pouch to store everything; and the complete text of Winter Days in the Big Woods interspersed throughout the book.
•

Brides from Around the World Paper Dolls
-- Four lovely brides model 28 elegant costumes from around the world. Bridal wardrobes include a Celtic robe from the medieval period, a Chinese tunic of red silk, a Philippine wedding gown, and ensembles from Holland, Zimbabwe, Korea, Mexico, Denmark, Greece, Russia, and eighteen other countries. Notes describe wedding apparel and provide information on traditional wedding ceremonies.
• Chanel Fashion Review Paper Dolls

-- The essential little black dress, the elegant suit with the gold-buttoned jacket, the freedom to wear slacks — modern women still draw upon the innovations of Gabrielle
Coco
Chanel. This collection features 3 dolls and 28 authentic costumes that illustrate Chanel's haute couture history and the enduring appeal of her designs.
•

The Black Apple's Paper Doll Primer: Activities and Amusements for the Curious Paper Artist
-- Inside this book you'll find 21 sweet, mysterious characters with clothes and accessories all their own -- from a busy beekeeper's daughter to a bird-loving librarian. You'll also find 16 dolls ready to be designed and brought to life by you! Emily will show you how to draw, paint, and personalize your way to a little paper replica of anyone you'd like.
• Authentic Shirley Temple Paper Dolls and Dresses

-- Two dolls and 16 costumes reprinted from rare original edition published by The Saalfield Publishing Company in 1937. Also included are period playthings and accessories: toy horse and dog, hats, purses, toy soldier, as well as black-and-white photographs of Shirley wearing the original outfits. 33 full-color illustrations.
Click for even more paper dolls!
NOTE -
If any of the above links are not working or the freebies or coupons no longer available, please post a blog comment below and I'll edit it!
---
QUICK FREEBIE TIP:
If you really like a freebie you received, think about emailing the company. Sometime they respond by mailing you high-value coupons for their product... yet another freebie!
Click for more quick freebie tips
---