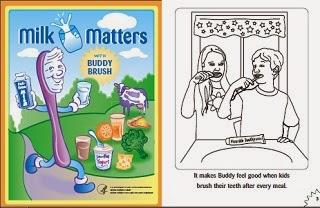 This 16-page colouring book is part of the
NICHD Milk Matters
campaign, designed to teach parents, children, and health care providers about the importance of calcium for children and teens.
The booklet, for children ages four to eight, follows
Buddy Brush
as he explains why calcium is critical not only to good health, but also to healthy teeth, and outlines how to take good care of teeth.
Milk Matters with Buddy Brush
(Worldwide)
MORE FUN!
Buddy Brush Coloring Book
(Worldwide)
Milk Matters Lessons for Kids
(Worldwide)
High Powered Kids Bingo Game printable
(Worldwide)
Choose My Plate
- Click a food group to explore
(Worldwide)
---
QUICK FREEBIE TIP:
Whenever you receive a freebie that leaks all over your mail - you should email the company and tell them. You might even get a full-size bottle of their product in compensation!
Click for more quick freebie tips
---