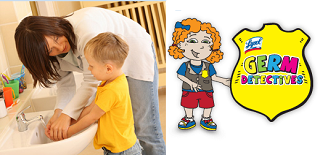 Cute poster to encourage kids
(and grown-ups!)
to wash their hands properly.
Help reinforce healthy habits in your home. Here's how:
Emphasize the importance of washing hands:
• After using the washroom.
• Before and after handling food.
• After playing outside.
• Whenever hands are visibly dirty.
Disinfect commonly touched surfaces such as:
• Doorknobs and Railings.
• Remote controls/gaming devices.
• Light switches.
• Counter tops and faucets.
Print a copy of the
Lysol Germ Detectives
hand washing guide and post it in your kitchen or any appropriate place for everyone to learn and practice proper hand washing.
Click for free poster
(Worldwide)
NOTE -
If any of the above links are not working or the freebies or coupons no longer available, please post a blog comment below and I'll edit it!
---
---
◊
Enjoying all the freebies? Want to keep up with the latest free stuff, deals, coupons, and other ways to save money? Subscribe to
Frugal Freebies'
email updates or RSS Feed
! - it's free!
◊
Check us out on Twitter, and join in the conversation of even more great freebies, deals and coupons on our
Frugal Freebies
fan page on Facebook and
Google+. We are even on Pinterest!