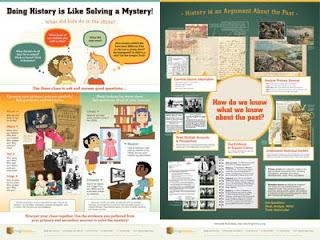 Bright illustrations and snappy captions present history as a mystery for elementary students, while the flip side asks middle and high schoolers how historians know what they know about the past.
Both sides feature clear visual examples of primary sources.
These double-sided color posters feature definitions of primary and secondary sources and guides students through the process of historical inquiry.
What questions should you ask when examining a primary source? Where should you look for reliable secondary sources?
How do you use the evidence you've gathered to make an argument?
Are you a K-12 U.S. history or social studies teacher, librarian, or teacher educator? Looking for ways to promote thoughtful, critical reading of primary and secondary sources in the classroom? Teachinghistory.org offers posters to help you out!
PLUS! Civil War Poster -
Get students thinking like historians to learn about the Civil War.
Click for printable posters
(Worldwide)
---
---
QUICK FREEBIE TIP:
Yes, sometimes freebies are just for Canadian readers. Sometimes they are just for US readers. Sometimes even just for UK, Australian or European readers. I only find the freebies, I have no control over who the company can ship to. Canada is a different country, and I am Canadian, so that's why I search out and post as many Canadian freebies I can find.
Click for more quick freebie tips
---
◊
Enjoying all the freebies? Want to keep up with the latest free stuff, deals, coupons, and other ways to save money? Subscribe to
Frugal Freebies'
email updates or RSS Feed
! - it's free!
◊
Check us out on Twitter, and join in the conversation of even more great freebies, deals and coupons on our
Frugal Freebies
fan page on Facebook and
Google+. We are even on Pinterest!