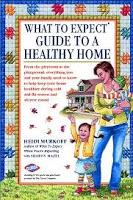 Heidi Murkoff, author of the bestselling
What to Expect
series, has written a new 16-page book
What to Expect: Guide to a Healthy Home.
It is full of easy to use tips and practical advice on how to keep your whole family and home healthier.
The
What to Expect Healthy Home Growth Chart
is a new supplement to the original Healthy Home Guide. This guide gives parents helpful tips for a healthy home during each milestone of a child's first few years. A few healthy tips from the guide include:
•
Set up small changing stations with baby wipes and diapers in multiple rooms in your house to make diaper changing easier on you… especially if you have multiple floors.
•
Disinfect frequently-touched surfaces in the home – such as doorknobs, light switches and hard toys – with disinfecting wipes to help prevent the spread of germs.
•
If a stuffed toy isn't machine-washable, put it in a plastic bag in the freezer overnight to help get rid of dust mites.
•
Also try this neat trick: The last page of the guide is a great print-out for moms to post on the fridge or distribute to playgroup members for quick tips.
Click for
What to Expect Healthy Home Growth Chart
(Worldwide)
NOTE -
If any of the above links are not working or the freebies or coupons no longer available, please post a blog comment below and I'll edit it!
---
---
◊
Enjoying all the freebies? Want to keep up with the latest free stuff, deals, coupons, and other ways to save money? Subscribe to
Frugal Freebies'
email updates or RSS Feed
! - it's free!
◊
Check us out on Twitter, and join in the conversation of even more great freebies, deals and coupons on our
Frugal Freebies
fan page on Facebook and
Google+. We are even on Pinterest!