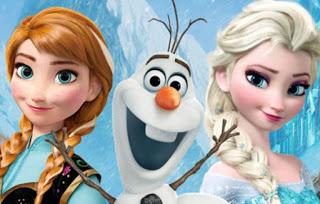 When their kingdom becomes trapped in perpetual winter, fearless Anna joins forces with mountaineer Kristoff and his reindeer sidekick to find Anna's sister, Snow Queen Elsa, and break her icy spell.
Have fun making your favorite Frozen characters with papercraft!
Elsa Papercraft -
Cast a magical, crafty spell and make your own printable version of Elsa the Snow Queen.
Elsa From Disney's Frozen cubeecraft Template -
Elsa, the Disney Snow Queen, depicts her snow dress with snowflake embellishments and sparkles.
Anna Papercraft -
Do you wanna build an Anna papercraft? Of course! Create your own version of the fearless princess from Arendelle.
Coronation Princess Anna of Arendelle Papercraft -
This figure papercraft is a coronation version Princess Anna of Arendelle, based on the Disney's animated film Frozen, the paper model is created by Orel67.
Anna From Disney's Frozen cubeecraft Template -
Anna has such a beautiful dress. I even placed the white strip of hair.
Olaf The Snowman Paper Craft -
Olaf the snowman sneezed his nose out on a frozen lake. Then a moose took his nose that was made out of carrot.
Cubeecraft template of Olaf from Disney's Frozen -
This little Guy Loves Warm hugs, just don't make him melt!
Cubeecraft of Kristoff from Disney's Movie Frozen -
Kristoff Bjorgman is a true rugged mountain man who felt the only companion he would ever need was a spunky Reindeer named Sven.
Disney Frozen Hans 3D Cubeecraft by SKGaleana -
Hans, the prince with a frozen heart!
Click For More Frozen Activities
---
---
•
Enjoying all the freebies? Want to keep up with the latest free stuff, deals, coupons, and other ways to save money? Subscribe to
Frugal Freebies'
email updates or RSS Feed
! - it's free!
•
Check us out on Twitter, and join in the conversation of even more great freebies, deals and coupons on our
Frugal Freebies
fan page on Facebook and
Google+. We are even on Pinterest!
More Frugal Blogs and Websites:
•
Born to Love: All your cloth diapering needs, and much more - naturally! We are strong advocates of the personal, social and environmental benefits of natural parenting.
•
Frugal Baby Tips: Money-saving tips on diapering, diaper washing, safety, slings and baby carriers, toys, clothing, nursing, menstrual needs, traveling with kids, more!