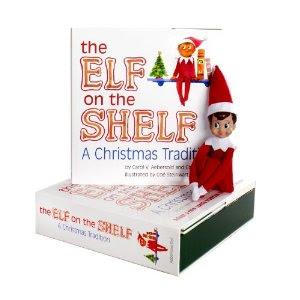 Year after year, children and adults alike are baffled by the mystery of how Santa really knows who's been naughty or nice.
After much urging by the elves and Mrs. Claus, Santa has allowed his biggest secret to be revealed in
The Elf on the Shelf: A Christmas Tradition.
At the start of each Christmas season, the elf appears to serve as Santa's eyes and ears, traveling back to the North Pole each and every night to make a detailed report of the day's activities.
This keepsake gift set includes a light skin, blue eyed boy North Pole pixie scout elf and a hardbound watercolor picture book. Children can register their elf online to receive an official adoption certificate and a special letter from Santa.
Elf on the Shelf Freebies: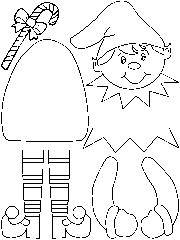 You don't have to buy an
Elf on the Shelf
- you could make your own out of paper or cardboard!
The large paper craft makes a very nice wall hanging decoration for Christmas time. It also makes a nice centerpiece for a classroom bulletin board with children's Christmas poems or artwork hung around it.
You can attach the arms and legs with brass tacks
("brads")
instead of glue if you want them to be movable.
Click for Elf on a Shelf template
(Worldwide)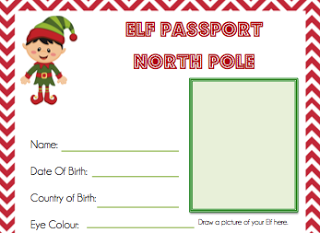 So how DID this magical Elf travel to your home? Was it by Reindeer, floating on a snowflake, posted through the mail? However he arrived, he will need a passport to get back home again!
Click for printable passport
(Worldwide)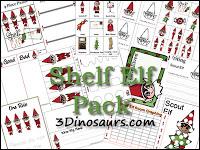 Shelf Elf Freebie Pack
contains over 60 pages:
-- 3 Part Cards, Beginning Sounds, Matching Cards, Read Write the Room, Pocket Cards, Which One Is Different, What Comes Next, Pre Writing Practice, Pattern Cards, 10 Piece Puzzles, 4 Piece Puzzles, Size Sorting, Sorting, Coloring Pages, Math Pages, Writing Pages, Graph the Room, Good and Bad Chart, Dot Marker Pages and more.
Click for Shelf Elf Freebies
(Worldwide)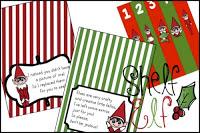 Elf on the Shelf printables
- designed for kids 2-10
These printables are a bit different from my norm. Instead of activities, there are little cards to be printed out and placed near your Elf on the Shelf while he is caught creating some mischief. Also included is a list of 32 relatively simple ideas, and a matching card with a rhyme to go along with the idea.
Also, there are strips to be used at a Christmas countdown chain featuring the elves!
Click for Elf on the Shelf Printables
(Worldwide)
MORE FREEBIES:
•
Christmas Elf Coloring Pages
• Elf Math Game Freebie
•
Elf on the Classroom Shelf Word Search
•
Elf on the Shelf Calender
• Elf on the Shelf Unit
• Elf Journal
• Elf on Shelf Count Down to Christmas Bookmark
• Elf on the Shelf Advent Calendar
• Elf on the Shelf Planning Calendar
• Elf on the Shelf Writing Sheets
• Elf on the Shelf Christmas Lists
• Elf on the Shelf Freebies
• Elf on the Shelf Journal
• Shelf Elf Fortune Teller
NOTE -
If any of the above links are not working or the freebies or coupons no longer available, please post a blog comment below and I'll edit it!
---
QUICK FREEBIE TIP:
Some don't use their last name when requesting freebies - to foil the telemarketers who take your name and address and look up your phone number to call you. To avoid these nuisance calls, they use only their first and middle name, or change some of the letters in their last name. Another benefit is that way you can track where the junk mail came from.
Click for more quick freebie tips
---
•
Enjoying all the freebies? Want to keep up with the latest free stuff, deals, coupons, and other ways to save money? Subscribe to
Frugal Freebies'
email updates or RSS Feed
! - it's free!
•
Check us out on Twitter, and join in the conversation of even more great freebies, deals and coupons on our
Frugal Freebies
fan page on Facebook and
Google+. We are even on Pinterest!
More Frugal Blogs and Websites:
•
Born to Love: All your cloth diapering needs, and much more - naturally! We are strong advocates of the personal, social and environmental benefits of natural parenting.
•
Frugal Baby Tips: Money-saving tips on diapering, diaper washing, safety, slings and baby carriers, toys, clothing, nursing, menstrual needs, traveling with kids, more!
•
Jamberry Nails: The hottest trend in nail design. Get high-end nail art without the fuss of polish - or expensive salon visits! Like us on Facebook!
•
Oshawa Journal: A Step Back in Time to the Village of Oshawa - historical family timelines, news clippings, birth/marriage/death/grave records, photos and stories of the people I am researching, as well as the history of streets and houses in the village of Oshawa.