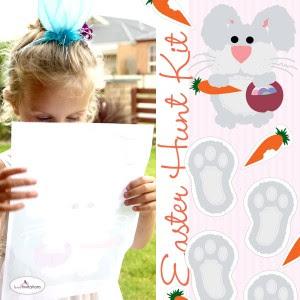 This adorable printable
Easter Hunt kit
is a bunny whose footprints and nibbled carrots will lead your child right to the Easter eggs the Easter Bunny left!
A fluffy bunny who tells your child to follow the footprints
(and half-munched carrots)
to whatever Easter loot you have hidden.
This is such a great idea for parents with younger children who don't quite understand the concept of finding hidden objects, however there's nothing stopping adults leaving a more adult surprise for their partners either… after all, just because you've all grown up doesn't mean you can't still enjoy Easter!
Click for free Easter Hunt Kit
(Worldwide)
NOTE -
If any of the above links are not working or the freebies or coupons no longer available, please post a blog comment below and I'll edit it!
---
---
QUICK FREEBIE TIP:
Remember, Frugal-Freebies.com doesn't give out the freebies, I only post the freebies I find on the net. To increase your chances of the freebies arriving in your mail, you could stick to the offers from the larger companies

(i.e.: Wal-Mart, P+G, Kroegers, Sam's Club, etc.).

However, lots of readers post on the Frugal Freebies forum saying they can't believe the amount of free stuff they've received in the mail, even though not every freebie will turn up from the other sites posted.
Click for more quick freebie tips
---
•
Enjoying all the freebies? Want to keep up with the latest free stuff, deals, coupons, and other ways to save money? Subscribe to
Frugal Freebies'
email updates or RSS Feed
! - it's free!
•
Check us out on Twitter, and join in the conversation of even more great freebies, deals and coupons on our
Frugal Freebies
fan page on Facebook and
Google+. We are even on Pinterest!