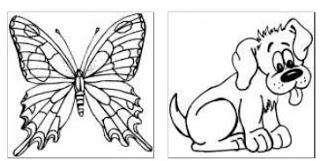 Kids bored? More than 4,400 coloring pages that you can download and print.
Categories:
Animals:
Reptiles, Birds, Cats, Dinosaurs, Dogs, Dragons, Horses, Insects, Other Animals
Abstract - Bible Stories - Birthday - Circus And Carnival - Color by Number - Construction - Dance - Fairies - Fantasy And Medieval - Fashion - Food - Gardening - Hearts - At The Doctor - In The Kitchen - In The Ocean - Landscapes
Letters and Numbers:
Alphabet, Numbers, Illuminated Letters, Illuminated Numbers, A is for Apple
Magic - Military - Music - Old West - On The Farm - Outdoor Recreation - Outer Space - Planets - Space Travel - People And Places - Plants And Flowers - Play Time - School - Science Fiction - Sports - Flags - State Flags - World Flags - Snow - Sky - Vehicles - Airplanes - Cars And Trucks - Toys - US History - US Maps - Weather - Zodiac
Holidays:
Halloween, Thanksgiving, Christmas, Kwanzaa, New Years Day, Valentines Day, Saint Patrick's Day, Easter, Mothers Day, Fathers Day, Independence Day
Click for free colouring pages
(Worldwide)
---
QUICK FREEBIE TIP:
When the site asks where you heard about them, say friend/family, not a freebie site. Right-clicking and copying the link location and pasting it in a new browser, rather than clicking the link can help too. Sometimes they won't send if they know you came from a freebie site.
Click for more quick freebie tips
---
◊
Enjoying all the freebies? Want to keep up with the latest free stuff, deals, coupons, and other ways to save money? Subscribe to
Frugal Freebies'
email updates or RSS Feed
! - it's free!
◊
Check us out on Twitter, and join in the conversation of even more great freebies, deals and coupons on our
Frugal Freebies
fan page on Facebook and
Google+. We are even on Pinterest!