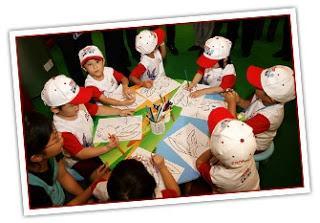 Make learning healthy habits fun with these free educational games and activities.
Starting at an early age, teach your children about the importance of dental hygiene by building a fun, brushing and flossing routine together.
Encouraging your children to take responsibility for their own oral care and instilling healthy habits not only helps prevent cavities, but also boosts your child's self esteem.
Explore these free educational materials and activities to get started.
Activities and Learning Resources -
These activities encourage your students to team up with Dr. Rabbit and the Tooth Defenders and become superheroes in protecting their own bright smiles!
-- Word Searches, Crossword Puzzles, Word Match, Maze Challenge, Storybook and App-tastic Adventures.
Online Activities -
Make learning healthy habits fun with these educational games, videos and music designed to get your kids excited about taking great care of their teeth and gums, while also educating them about the proper way to take care of their mouths.
-- My Bright Smile Art Gallery, Games Apps, Dr. Rabbit and Friends Collection of Songs, Meet the Tooth Defenders video
Plus Printables – For Ages 0-12
More Printable Materials
These printable posters and materials are great for young patients and their parents to brush up on their oral health care at home.
PLUS!
• Bright Smiles, Bright Future Certificate -
In recognition of their outstanding oral health habits and bright, shiny smiles!
• Color the Tooth Defenders Coloring Sheet• Tooth Defender! Maze Challenge• Bright Smiles Family Pledge• Bright Smiles Community Pledge• Bright Smile Oral Health Tips For Children
Click for more online resources
(Worldwide)
---
---
NOTE -
If any of the above links are not working or the freebies or coupons no longer available, please post a blog comment below and I'll edit it!
---
QUICK FREEBIE TIP:
If you really like a freebie you received, think about emailing the company. Sometime they respond by mailing you high-value coupons for their product... yet another freebie!
Click for more quick freebie tips
---
•
Enjoying all the freebies? Want to keep up with the latest free stuff, deals, coupons, and other ways to save money? Subscribe to
Frugal Freebies'
email updates or RSS Feed
! - it's free!
•
Check us out on Twitter, and join in the conversation of even more great freebies, deals and coupons on our
Frugal Freebies
fan page on Facebook and
Google+. We are even on Pinterest!
More Frugal Blogs and Websites:
•
Born to Love: All your cloth diapering needs, and much more - naturally! We are strong advocates of the personal, social and environmental benefits of natural parenting.
•
Frugal Baby Tips: Money-saving tips on diapering, diaper washing, safety, slings and baby carriers, toys, clothing, nursing, menstrual needs, traveling with kids, more!
•
Jamberry Nails: The hottest trend in nail design. Get high-end nail art without the fuss of polish - or expensive salon visits! Like us on Facebook!
•
Oshawa Journal: A Step Back in Time to the Village of Oshawa - historical family timelines, news clippings, birth/marriage/death/grave records, photos and stories of the people I am researching, as well as the history of streets and houses in the village of Oshawa.