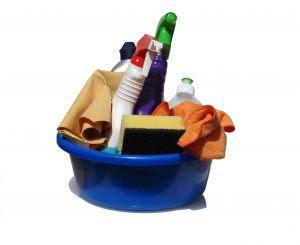 Housework, workouts and chores - who really wants to do it?
•
Free Chore Chart System
- Place these charts in sheet protectors and use a dry erase marker to check off the chores done. The main chart is placed on the refrigerator, as this is a place everyone frequents. It lists chores that are to be done daily, weekly, and yearly.
• Free Printable Weekly Planner for your Household Notebook or family binder. What's happening on the home front this week? You'll always be in the know with this simple, one-page planner form. Use it to record appointments, chores, outings and events in your organized home each week.
•
Free printables calendars and charts
- for baby, toddler, children, behavior, checklists, chores, Christmas, schedules, education, day care, school, holidays, home school, awards, business, car, computer, garden, health, holidays, home, internet, money, music, pets, safety, science, shopping, sports, teachers, travel, and webmasters.
• Free printable chore cards and tutorial - based on what works best - the kids have different chore times throughout the day, so they flip their card on the ring to see the next chore until they complete them all. My kids love it so far.
•
Free Printable Fitness Tracker
- two awesome printables to help keep you on track with your get fit goals.
Stock Photo Credit: Spring Cleaning, FreeImages.com/sanja gjenero (lusi)
Some Rights Reserved
---
---
NOTE -
If any of the above links are not working or the freebies or coupons no longer available, please post a blog comment below and I'll edit it!
---
QUICK FREEBIE TIP:
Some don't use their last name when requesting freebies - to foil the telemarketers who take your name and address and look up your phone number to call you. To avoid these nuisance calls, they use only their first and middle name, or change some of the letters in their last name. Another benefit is that way you can track where the junk mail came from.
Click for more quick freebie tips
---
•
Enjoying all the freebies? Want to keep up with the latest free stuff, deals, coupons, and other ways to save money? Subscribe to
Frugal Freebies'
email updates or RSS Feed
! - it's free!
•
Check us out on Twitter, and join in the conversation of even more great freebies, deals and coupons on our
Frugal Freebies
fan page on Facebook and
Google+. We are even on Pinterest!
More Frugal Blogs and Websites:
•
Born to Love: All your cloth diapering needs, and much more - naturally! We are strong advocates of the personal, social and environmental benefits of natural parenting.
•
Frugal Baby Tips: Money-saving tips on diapering, diaper washing, safety, slings and baby carriers, toys, clothing, nursing, menstrual needs, traveling with kids, more!