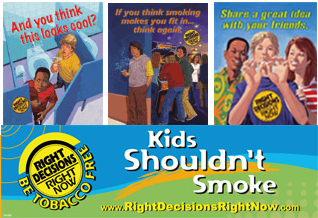 The
Right Decisions, Right Now
posters are designed to challenge these perceptions.
 In January 2008, a series of 12
Right Decisions, Right Now
posters were tested online with educators and students in grades 5 through 9 nationwide.
They evaluated the posters based on a set of attributes, which reflected preferences on items such as persuasiveness, look, and interest. Student preferences were similar across the grades.
Likewise, teacher and student preferences were also similar, as teachers often made selections based on how they think the posters will impact their students. Responses from students at risk for experimenting with tobacco were assessed as well.
Posters:
• And You Think This Looks Cool (PDF)
• Smoke Signals (PDF)
• Share A Great Idea With Your Friends (PDF)
• Think Again (PDF)
Click for free resources
(US only)
---
---
NOTE -
If any of the above links are not working or the freebies or coupons no longer available, please post a blog comment below and I'll edit it!
---
•
Enjoying all the freebies? Want to keep up with the latest free stuff, deals, coupons, and other ways to save money? Subscribe to
Frugal Freebies'
email updates or RSS Feed
! - it's free!
•
Check us out on Twitter, and join in the conversation of even more great freebies, deals and coupons on our
Frugal Freebies
fan page on Facebook and
Google+. We are even on Pinterest!