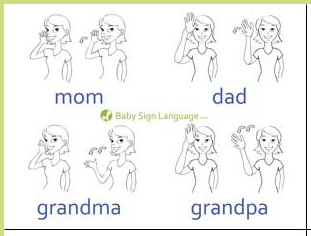 To get started on baby sign language, begin by learning your first few signs.
Mommy
,
Daddy
, Milk, and the rest of the Top Ten Starter Signs are a good place to begin.
You only need a few signs to start with, anywhere from three to five is fine.
These free baby sign language flash cards are a valuable teaching aide to help you develop the signing vocabulary of a more advanced baby.
Each sign card can be downloaded and printed out on your home computer.
Click for Baby Sign Language Chart
Click for Baby Sign Language Flash Cards
(Worldwide)
---
QUICK FREEBIE TIP:
Scam.com is your first choice if you are a true freebie hunter and want to research if some freebie is a valid one. 419eater is an active freebie hunter discussion board. PurPortal is a huge searchable database of scams which seems to be updated regularly. There are 4 sections: scams, urban legends, viruses and phishing sites.


PLUS:

List of freebie hunter sites that are spam, scam or phishing and 5,700 Chinese scams.
Click for more quick freebie tips
---
◊
Enjoying all the freebies? Want to keep up with the latest free stuff, deals, coupons, and other ways to save money? Subscribe to
Frugal Freebies'
email updates or RSS Feed
! - it's free!
◊
Check us out on Twitter, and join in the conversation of even more great freebies, deals and coupons on our
Frugal Freebies
fan page on Facebook and
Google+. We are even on Pinterest!