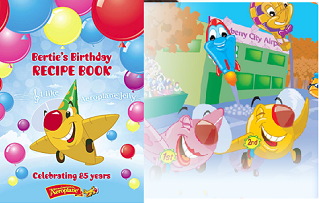 Aeroplane Jelly
offers heaps of fun stuff for kids to explore.
Download storybooks, colouring in sheets or check out their games and party ideas.
Then fly over to download
Bertie's 85th Birthday Recipe Book
for great jelly recipes.
Create Your Own Recipe Book:
Inspired by their recipes and want to create your own recipe book?
Making your own cookbook is super easy - here's how it works:
1. Select your chosen recipes from their recipes section.
2. Rearrange your chosen recipes in the
Edit Recipe Section
to create your desired recipe book.
3. Give your recipe book a name, save and download it.
Click to create a recipe book
(Worldwide)
NOTE -
If any of the above links are not working or the freebies or coupons no longer available, please post a blog comment below and I'll edit it!
---
---
•
Enjoying all the freebies? Want to keep up with the latest free stuff, deals, coupons, and other ways to save money? Subscribe to
Frugal Freebies'
email updates or RSS Feed
! - it's free!
•
Check us out on Twitter, and join in the conversation of even more great freebies, deals and coupons on our
Frugal Freebies
fan page on Facebook and
Google+. We are even on Pinterest!