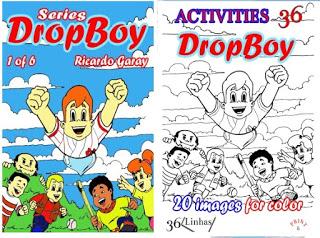 Dropboy
is a series of books, where the title character becomes liquid, and gets involved in many adventures.
He defends his friends - Andy, Takao, Anny, and Roa - from the fumbling villain - Doc Folly, his henchman Roig, and the bats Frit and Frat.
Many action-packed adventures, with a unique message - friendship above all else.
The Travels of Flip Flap  - two bubbles of soap take trips to the city, farm and sea - and discover angels.
Four free activity ebooks with five images each to color - Dropboy, Flip Flap, Little Adventurers, Little Guardians - and four free ebooks to read.
PLUS... three online games to play based on the books!
Click for free ebooks
Worldwide
---