There's no such thing as a free lunch some may say but what about some free tapas? Is it possible to get some free and thoroughly delicious tapas especially in a city of culture like Barcelona? You are in luck, because Barcelona has a thriving culture of free tapas and there are many establishments that offer a free "tapa" with your beer. We've made a quick list of some of the "must do" places in the Catalan capital that deserve special merit. Free tapas in Barcelona is possible!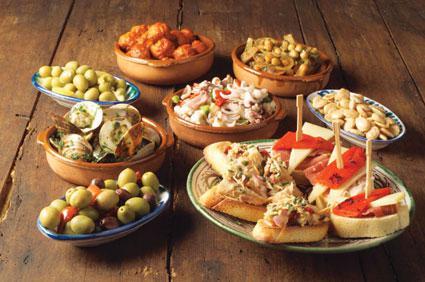 Frankfurt José
This is a great bar and it may be because they serve the most generous helpings of free tapas in Barcelona! Once you've ordered a drink, the generous owner José, serves you a tapa to accompany it. It's usually a fresh fish tapa or whatever he has on display, which is usually mussels, squid or fried hake – delicious! Don't forget, if you order another beer, you'll get another tapa – excellent!
Address: Melcior de Palau, 62
Neighbourhood: Sants-Montjuic
Metro Stop: Plaça del Centre (L3) Green Line
Atrapatapa
This place is great because you even get to choose the tapa if you want! Sometimes it can be a bit annoying if the waiter serves you a tapa that you don't really like. For example, I hate when they give me a tapa with morcilla or blood sausage on it! It's not for me, but hey, it's very typical in Spain. Atrapatapa is very reasonably priced because a beer and atapa costs just €1.20. Great tapas to try here are the Patatas bravas – delicious! Get in early because this place just gets crammed. I wonder why!
Address: Carrer del Comte d'Urgell, 77
Neighbourhood: Eixample
Metro Stop: Urgell (L-1) Red Line
Bar Mingus
Bar Mingus is one of those places that know how to treat their clientele. They have a charming terrace that adds character to the place and the savvy owners know just how to pamper you, too! Once you've ordered your drink, there's a tapa of homemade pizza, Spanish omelet (tortilla española) or even trinxat de la Cerdanya – a delicious tapa made from cabbage, potatoes, olive oil, garlic and streaky bacon. This is one place to try out for sure!
Bar Mingus is open from 6pm.
Address: C/ Comtessa de Sobradiel, 6
Neighbourhood: Gòtic
Metro Stop: Jaume I (L-4) Yellow Line
Gata mala
Now this is a great little bar found in the quaint neighbourhood of Gràcia in the center of Barcelona. Trinidad, the owner has taken care of many customers over the years and staved off their hunger pains with a Moritz beer and a tapa! Gatamala is a great place because you always get a different tapa with your beer or wine – the first one usually being a cold tapa with the second being hot – delicious. This place is very tiny but incredibly popular with locals and tourists alike. My advice is to get in early, have a few Moritz beers and enjoy some fine tapas.
Gatamala is open Tuesday to Friday 18:30 – 01:30 and Saturday from 18:30 – 02:00
Address: Carrer de Rabassa, 37, 08024 Barcelona
Neighbourhood: Gràcia
Metro Stop: (Joanic L-4 o Lesseps L-3) Green Line
There you have it. If you are in town on holiday whether it's a few days or longer, why not try some of the delicious free tapas in Barcelona that are available. Obviously there are many more places than those cited above and if you find a good one, drop us a line here and we'll add it to the list. Happy free tapas hunting!