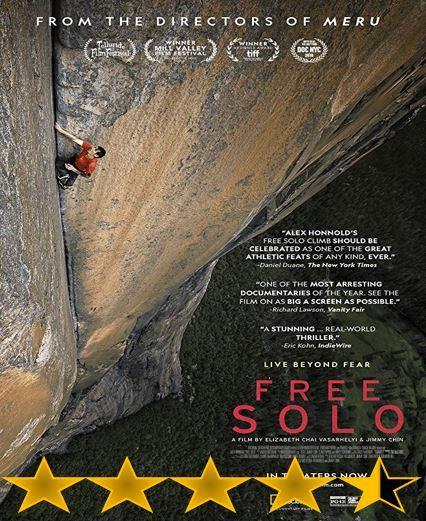 Director: Jimmy Chin, Elizabeth Chai Vasarhelyi
Plot: Alex Honnold attempts to become the first person to ever free solo climb El Capitan.

Tagline – Live Beyond Fear
Runtime: 1 Hour 40 Minutes
There may be spoilers in the rest of the review
Verdict: Beautifully Tense Documentary
Story: Free Solo starts as we learn about Alex Honnold's life, what drove him to want to be involved in the free solo style of climbing, the style which involves no ropes, no safety, just the body climbing. He has completed over 1000 of the most dangerous mountain faces in the world and now he has a new target.
Alex wants to free solo El Capitan in Yosemite National Park, California. Alex is joined by his filmmaking friend Jimmy Chin that has filmed climbs across the world as they plan the most dangerous climb that has already cost many climbers lives.
Thoughts on Free Solo
Final Thoughts – When it comes to anybody's passion, you should never question what they are doing, as long as they are enjoying themselves, Free Solo is a perfect example of this, while most of us wouldn't even consider this as remotely fun, for Alex this is his whole world. Seeing the preparation going on behind the climb shows us how this just isn't just a basic climb, it is a calculated process, which shows where the risks will lay. We see how Alex's mind operates, how climbing is the most important part of his life, even with a loving girlfriend, Alex must process just what is the most important to him.
Watching the moment when Alex finally goes for it, we watch on like the crew on the edge of our seat wondering if he will make it or will this be a documentary about his death. with some of the tenses scenes you will see from a documentary, this is one of the must watch ways to follow dreams.
Overall: Must watch documentary.
Rating

Advertisements