Like many, you may be considering how to adapt your marketing to the current pandemic. You may be considering entirely withdrawing your marketing or SEO spend, and you may have lots of questions at this very uncertain time (some of which simply can't be answered, by anyone).

Here at SEOAndy, we want to offer a helping hand to all small businesses – so we are offering a completely FREE SEO Health Check to any SME, Freelancer or similar business! all you need to do is complete THIS form, and one of the team will be in touch.
However, there are lots of questions we can answer, right here, right now to help you with your SEO and Marketing during the coronavirus pandemic. Here are some of the questions we've been asked:
SEO Questions during the 2020 Pandemic, answered by Andy
Will Google stop updating rankings and algorithms during the COVID19 pandemic?
I produced the below table to look at exactly the number of updates to its algorithm Google had rolled out during world pandemics. It includes COVID-19, and the answer is pretty clear that to date Google has no intention of stopping updates to its algorithm – this would in turn mean shuffling of rankings too.


However, the caveat to this is pretty simple. The longer the coronavirus pandemic goes on and the longer Google and Bing remain on lockdown the less likely algorithm updates will be. This means we will see lower volitliaty as we move forward through the pandemic, but this isnt to say we wont see it – as of course search engine engineers are still working from home.
All of this still points to one thing, no website is safe from a ranking movement up or down and all websites need to be aware that SEO best practice and maintenance should be remembered even during this period.
Should I turn off my marketing and SEO?
In short, budgets are going to be tighter for almost all businesses at this time and I dont think there is a simple answer to this question that applies to all businesses.
For instance for online stores or services offerings it makes little sense to switch off marketing at this time, and indeed there could be an argument to certainly look to improve it.
However, for brick-based retailers or lesiure sector organisations this isnt the case and turning-down marketing is ceratinly something to look at. This said, as mentioned above, switching off SEO isnt something that may be a great option as Google isnt going to switch off its algorithm. Therefore it would be a good idea to review and maintain a presence with a plan, even if this is at a lower level than previously.
What is Google doing to support my business in terms of SEO?
This is a bit of a moving picture, and in the past few days a few things have been announced – we expect even more to be added soon.
In terms of local business – on Google My Business, there is now a special closure type to allow for temporary closures, there is also an ability to add a COVID-19 post/update should someone search for your business name.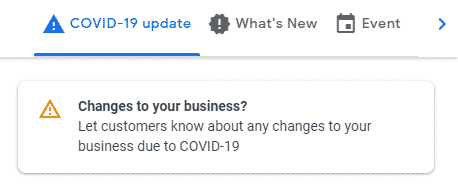 Google Maps in line with the above will show both if a location is temporaily closed and such posts. Editors/recommendations to the ends of temp closures will be prioritsed to ensure services are correctly listed.
Additionally, Google announced SMEs using its adwords platform since January would
recieve a special adwords credit
to help during this period. Its not immediately available as they are still building the system – I will update this post when I hear it can be accessed, but it will just appear in your account.
Have All E-Commerce Markets Peaked?
The research I've done is global and the answer is no for everywhere, regardless of product. That is because almost no where is stopping home deliveries (i could be wrong), though this may change. The below is from Google trends and shows the last 90 day trend data for the UK, for Toilet Paper (blue), Hand Sanitiser (red) and food home delivery (yellow) – as you can see clearly the first two have peaked but food home deliveries are growing and this is something I anticipate would continue to grow as the lockdown in the UK continues.


Indeed, with more people self-isolating and a harsher lockdown it's almost certain it will grow – indeed with more businesses too such as market fruit and veg stalls now more often than not closed, it is likely that they may move online, and if they aren't they could do soon.
This means there is still time to invest in your e-commerce presence and indeed invest in your e-commerce SEO overall, ensuring that you can scale orders quickly for locals who need them most.
Additionally, I am seeing more searches for searches such as "toilet paper
near me
" and "hand sanitiser
near me
"for local supplies and this is likely to increase to other terms (eg "local vegetable deliveries near me" etc).
Is there one way I can improve my site right now?
If I had a pound for everytime I've been asked this…
Honestly, I have always said content is king! and I wasn't joking.
So, update your content across your website and ensure it's the best content you've written. Make sure it's highly targetted to your current audience (have you changed from a national to local audience, just as this page targets specifically SME's and smaller businesses?) and write some new awesome content!
Finally, take care of the details – update your meta tags and update the images.
Still stuck? complete the form and get a free SEO health check, or if you've just got a question – send me a question