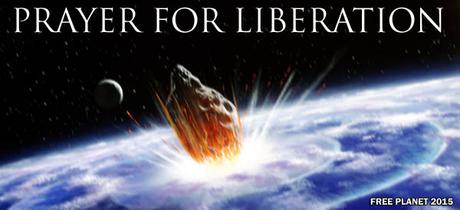 it's true, last night I put my hands together in prayer, and I prayed a PRAYER FOR LIBERATION.
I prayed for something like a massive asteroid or meteor or cometary impact that would slam into this ruined corporate scrapheap and CLEANSE THIS INSANE SHITHOLE of a world.
The G2F or Global Gaming Factions (of all flavour, even Free Planet) are too amoral, too up their own arse, to see or appreciate or empathise with the 'error of man's ways' and no solution, other than the one heartfelt prayed-for prayer of Celestial Liberation, will help revert this planet back to its natural state. Only a spectacular cataclysm of utter global rebootage will prep this homeworld for its return to the rightful status of Free Planet.
Bring on the Great Flood, again, oh Lord - Cleanse the Heinous Mess We've Allowed Man to Make - I beseach thee. In Jesus' name. In Allah's name. In the name of all the other thousands of invented mind-spirits, demons, demi-gods and Omniscients. Do it tonight, we're all (technically) asleep so we won't even feel a thing. Reboot this cheap B movie so that real worthwhile living can be done by the smattering of survivors.