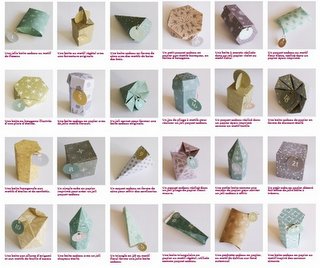 Here is a great list of 100+ free box templates, tutorials, and inspiration for boxes.
There are wedding boxes, treat boxes, take-out boxes!
Plus lots of fun ones too -
Father's Day
Tool Box kit, Sue's Little Red Wagon box, Flower cart box, Baby Carriage box, UPS Truck box, Mavens tiny milk carton, Scor-Pal coffee mug box, Pirate box,
Christmas
tree boxes, Vicky's birdhouse treat box, Nestabilities basket, Toy Shop Box, Celtic Circle box, and so much more!
Click for free box templates
(Worldwide)
MORE:• Free Template Maker:
Need to wrap an odd-shaped gift? Create a box for it! Measure it up, choose a template and print it.
• Free Gift Box Templates:
4 templates to choose from in different styles and sizes. These boxes are great for jewelry, CD's, sweets or any other small gift that you want to make extra special.
• Free Gift Box Templates:
Make your own gift box in 5 minutes with one of my free gift box templates. Heart-shaped, cube-shaped, bag-shaped, and more.
• Free Gift Box Templates For Wedding Favors:
Make your own wedding favors with these free gift box templates.
• Free box templates:
Download box templates for you to make your own boxes at home, school or office!
NOTE -
If any of the above links are not working or the freebies or coupons no longer available, please post a blog comment below and I'll edit it!
---
◊
Enjoying all the freebies? Want to keep up with the latest free stuff, deals, coupons, and other ways to save money? Subscribe to
Frugal Freebies'
email updates or RSS Feed
! - it's free!
◊
Check us out on Twitter, and join in the conversation of even more great freebies, deals and coupons on our
Frugal Freebies
fan page on Facebook and
Google+. We are even on Pinterest!
More Frugal Blogs and Websites:
◊
Born to Love: All your cloth diapering needs, and much more - naturally! We are strong advocates of the personal, social and environmental benefits of natural parenting.
◊
Frugal Baby Tips: Money-saving tips on diapering, diaper washing, safety, slings and baby carriers, toys, clothing, nursing, menstrual needs, traveling with kids, more!
◊
Jamberry Nails: The hottest trend in nail design. Get high-end nail art without the fuss of polish - or expensive salon visits! Like us on Facebook!
◊
Oshawa Journal: A Step Back in Time to the Village of Oshawa - historical family timelines, news clippings, birth/marriage/death/grave records, photos and stories of the people I am researching, as well as the history of streets and houses in the village of Oshawa.