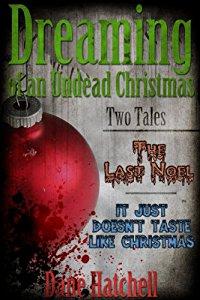 Dreaming of an Undead Christmas
by Dane Hatchell
-- Christmas just wouldn't be the same without a zombie wandering the hall in the dead of night.
This year, you can wait for Santa by the fireplace curled up to two undead tales designed to fill you with more chills and thrills than ice filled underwear.
"
The Last Noel
" is an action packed extravaganza where Santa arrives and finds a small town engulfed in undead madness. It's not over once he leaves the town, as the plague of all plagues follows him to the North Pole. Elves, proton blasters, and androids clash as Christmas struggles to survive.
"
It Just Doesn't Taste Like Christmas
" begins as children are waiting for a visit from a Department store Santa. He brings more than '
Christmas cheer
' to spread as the dead begin to walk on Christmas Eve. Those that survive take refuge in a remote family camp, where fate brings lost love ones together.
Click to grab your free ebook:
US | Canada | UK
---

NOTE -
If you're reading this message, you've probably got a smartphone, computer or iPad.
Get a free Kindle Reading app and take a break from your world with free books!
Available on your iPhone, Android, Blackberry, PC, Mac, iPad or iPod Touch.
NOTE -
Before purchasing Kindle Books, make sure that it is in fact

still

free. Though free at time of posting, prices may change at any time. Be sure to verify the Kindle Price, before purchasing. If you do happen to buy a book that you thought was free, you can return the book within 7 days for a full refund. NOTE - Canadian and UK books are not always the same price as the US books.
---
MORE FREE BOOKS:
 •
Top Free Kindle Books
 • More free book resources - including Kobo and Nook
 • Free audio books
---
NOTE -
If any of the above links are not working or the freebies or coupons no longer available, please post a blog comment below and I'll edit it!
---