By 
Meet Karina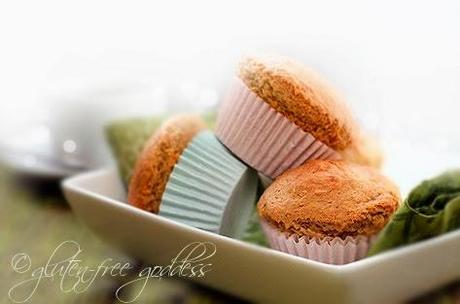 Free Banana Corn Muffins Recipe
I love using banana puree in vegan baking. The mashed sweet fruit gives egg-free muffins a pull-apart tenderness. Not to mention- the combo of cornmeal and banana? Delicious.
Ingredients:
Whisk in a mixing bowl:1 cup Bob's Red Mill Gluten-Free Cornmeal3/4 cup sorghum flour1/2 cup potato starch or tapioca starch1 1/2 teaspoons baking powder1/2 teaspoon baking soda1/2 teaspoon sea salt1 cup packed organic light brown sugar1/4 cup organic cane sugarPinch of nutmegMake a well in the center and add in:1/2 cup light olive oil1 cup banana puree1/3 cup coconut milk or other non-dairy milk1 tablespoon Ener-G Egg Replacer whisked with 1/4 cup warm water 2 teaspoons bourbon vanilla extract1/4 teaspoon lemon juice or light tasting vinegar1 tablespoon honey or organic raw agave nectar Instructions:
Preheat oven to 350ºF. Line twelve muffin cups with paper liners.
Beat to combine. The batter should be smooth and medium thick. If it feels too stiff add a spoonful of coconut milk to thin. If, by chance, the batter is very thin, add a sprinkle of potato starch to thicken it.Spoon the batter into the twelve muffin cups. Use wet fingers to smooth tops, if necessary. Bake in the center of a preheated oven till domed and firm to the touch. This might be anywhere from 18 to 25 minutes (a wooden pick inserted into the center should emerge clean) depending upon your oven, and humidity.Cool the pan on a wire rack for a few minutes; then turn out the muffins to continue cooling on the rack (this prevents the bottoms from steaming).Serve warm. Wrap extra muffins individually in foil; bag and freeze for best taste. These beauties make an easy, not-too-sweet on-the-go treat.Makes twelve muffins.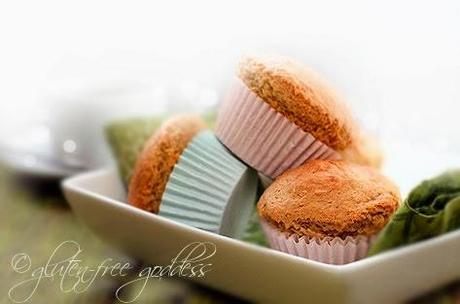 Free Banana Corn Muffins Recipe
Karina's Notes:
For those of you who cannot bake with cornmeal, I'm wondering if a combo flour mix of almond meal and buckwheat wouldn't be to die for?
For those of you using eggs, use two free-range organic eggs, beaten.
Gluten-free vegan batter really is different from traditional wheat flour based batter. It's not just a rumor. Gluten-free egg-free muffins won't puff and rise as much as their wheat based cousins. So fill your muffin cups a bit higher than you used to.
This is a gum-free recipe, but if you prefer, add a teaspoon of xanthan gum or guar gum. The honey or agave helps add stickiness.