Losing any kind of data could be frustrating for anyone and it could be even worse when the data stored in your phone; data in smartphone is something you have no copy of. It is often seen that people never think of the happenings that may cause your important data to vanish. This is why we always recommend to have backup copy of your important data like your contact numbers, addresses, pictures and so on, loosing which might put you is trouble.
There are many backup applications available on internet provided by numerous companies at no cost. Depending upon the particular usage and required features, one can easily download the free smartphone data backup apps directly from the Google Play Store.
We would personally recommend our user to use Google store as this can be something that one can trust like; the apps on the Google store are malware tested and would have gone through many screening tests before letting it available on Google play store. Some of the popular and successful free backup applications for your android smartphone are:
1) Titanium Backup – This app is mainly available for rooted phone users.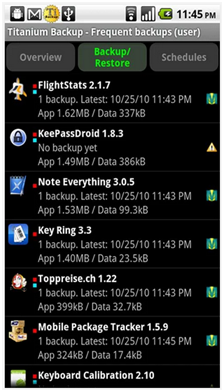 Description:
Compatible with Android version 1.5 and above
Can effectively backup, restore, android apps data and market links
Download Link: Titanium Backup
Cost – Free and paid both versions are available. Paid PRO version is available with added interesting features.
2) Super Backup: This app is mainly for backup SMS, call logs & Contacts to SD Card or to Gmail account.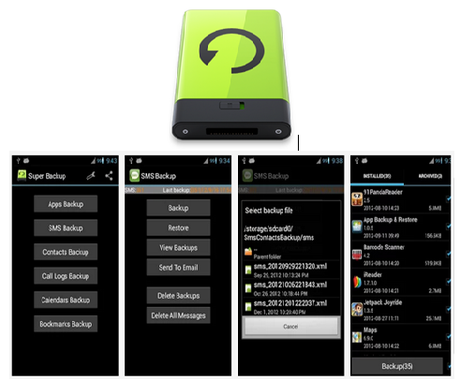 Description:
Compatible with 2.0.1 and up
Auto upload scheduled backup files to connected Gmail account.
Show last backup details.
Backup folder path could be changed.
Backup and restore apps to SD card.
Download link – Super Backup
Cost – Free and paid both versions are available.
3) Mobile Backup & Restore by Avast – Alike expert Antivirus Avast backup is also amazing.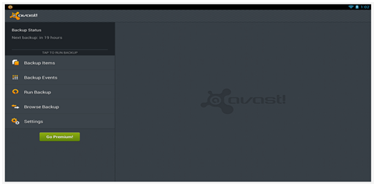 Description:
Compatible with android 2.2 and up
Backup photos, contacts, SMS, Call Logs, Music, videos, apps.
Basic version is completely free that can backup photos, contacts, SMS, Call Logs but pro version is needed to backup Music, videos, apps
Available in paid version with added features.
Download Link – Avast Backup
4) Safe Backup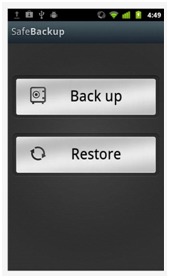 Description:
Compatible with 2.1 and above
Compatible with all major android versions and allow easy exchange of data between different versions.
Can be used to backup pictures, music, video, bookmarks, ringtones, voice memos, contacts, messages, call logs and alarms.
Paid version available with added features.
Download Link – Safe Backup
5) GO Backup & Restore – Go Backup and restore, a professional tool to help backup and restore user data, system settings, apk files and app data.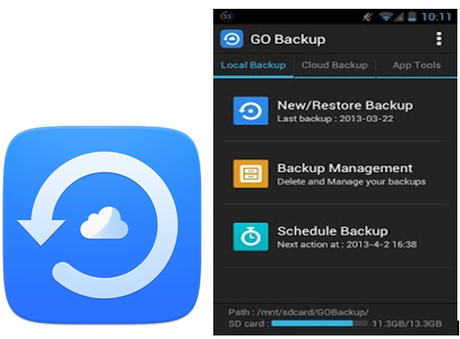 Description:
Compatible with 2.2 version android and above
Batch backup & restore Contacts, Call Logs, Bookmark and Calendar data
Batch backup & restore apps with two modes: apk+data OR apk only
Able to Merge individual backups
Able to batch delete backups
Smart enough to Merge duplicate contacts automatically
Download Link –  Go Backup
6 ) IDrive (Online Backup) - This app allows users to take data backup with a "single tap".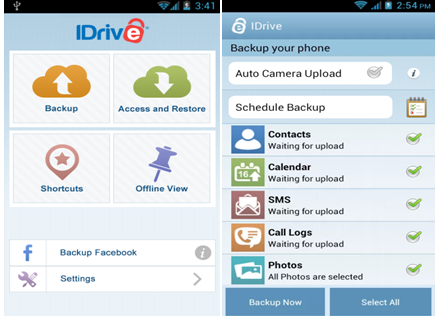 Description:
This app is not only compatible with android phones but also with PCs, Macs, iPhones and iPads.
A great app to backup contacts, photos, videos, SD card files, call logs, calendar and text messages.
Basic version has 5 GB storage space which is huge.
Real time data backup facility
Compatible with android version 2.1 and up
Download Link – Idrive Backup
Note - We would advice our readers not to keep any confidential information in your smartphone.
Summary: Such mobile applications would help you to store your important data as a backup. These applications are easy to install and user friendly. If you do not have any backup application installed on your phone then install any of them now to keep your data safe now!