It's Chopin's birthday today!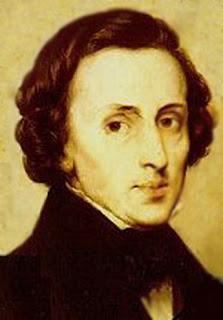 Fryderyk Franciszek Chopin   1 March 1810 – 17 October 1849 Born to a Polish mother and a French father in the village of Żelazowa Wola, just outside Warsaw, Chopin is known as one of the world's greatest Romantic composers. At the time of his birth in 1810, Poland was under the occupation of three powers: Russia, Prussia and Austria. Warsaw fell to Russia, the cruelest of the three. When Chopin left Poland at the age 20, little did he know that he would never return to his country again. The November Uprising of 1830 erupted when he was in Vienna and his family advised him to stay away. One can hear the musical echoes of this tragic moment in many of his compositions, particularly in the Revolutionary Étude (Étude Op. 10, No. 12 in C minor). His longing for his homeland never abated and he was forever searching for the time lost. The echo of the old Polish Christmas song "Lulajże Jezuniu" can be heard in the Scherzo No. 1 in B minor, Op. 20 which he composed in 1831.
   It's important to remember that Chopin was not some wild Romantic splashing his emotions all over the piano. He was a disciplined composer who knew how to express the innermost human passions with musical brilliance, elegance and restraint. He would advise his future interpreters: "Always play JS Bach before you play me!"
   Here is a photo I took in 2010 from my pilgrimage to his burial place in Père Lachaise Cemetery in Paris.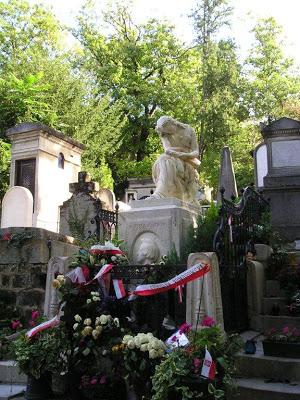 Chopin's tomb in Paris, France
Let's celebrate the birthday of this most sensitive, delicate and graceful composer.
I thank Jeff Tkatchuk for the inspirational link to Chopin's Nocturne.