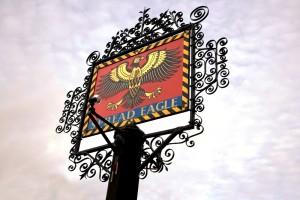 Freddie Mercury Tribute Night at The Spread Eagle
Guests at The Spread Eagle in Thame, Oxfordshire, will be reaching for their air guitars when the hotel hosts its Freddie Mercury Tribute Night on 29 November 2013.  Those in attendance will be able to sing-a-long to some of Queen's most famous hits, such as Bohemian Rhapsody, We are the Champions, and Don't Stop Me Now.
Tickets to the event cost £24.50 per person, and include a three-course dinner. Following the act, guests will be able to slip on their dancing shoes and boogie the night away, or treat themselves to a Freddy Mercury Cocktail.
The evening will be held in the extensive banqueting hall which seats up to 200 guests. Complete with its own bar, private cloakrooms and separate kitchen, it is the largest venue in the area.
The Spread Eagle has graced the heart of the historic market town of Thame since the 16th Century. From the exterior, the hotel is instantly recognisable by its 30ft original sign depicting The Spread Eagle crest that has welcomed travellers for over a century.
The 35 guestrooms are reached by a series of higgledy-piggledy staircases with a maze of corridors and black baroque carpets that add to the character and charm of the hotel.  Once reached, the guestrooms are tastefully decorated in a romantic style with four-poster beds and vintage furniture.
Please e-mail David at [email protected] if you would like to feature on the site.
Thanks for reading
David