'It's the spores – all that fungi floating around you – that's what makes it so special.'
We were discussing the virtues of 'foresting bathing', which involves lying down on the forest floor and reaping manifold, albeit somewhat mysterious, benefits. The context: a recent book meeting I attended.
I have picked out this moment as representative of how we often have a tendency to seize on ideas that capture our imagination but not really go much further.
We were meant to be discussing A Mindfulness Guide for the Frazzled by Ruby Wax but the book had only be read by a handful of us (a fifth of those attending to be more precise). And, as the above quote suggests, the approach we took to engaging with the book was similarly 'magpie-ish'.
'All those exercises Ruby Wax describes, well, I don't have the time or money to do all that. We're not all wealthy celebrities who can take time out of the day just like that to do breathing exercises.'
'I thought mindfulness was all about living in the moment. In the book, it seemed much more complicated than that.'
'Someone at work gave me this article about how mindfulness is actually bad for you. All that introspection – it can make you down. You need to go out and do stuff, not just navel gaze!'
This chatting reminded me of how people engage with health, and in particular healthy eating. People have caught onto certain ideas and concepts, bringing them into their lives with great enthusiasm, going all out on avoiding gluten-free, eating quinoa with grim determination. In fact, it's now a majority activity: 54% of the population purchased a 'free from' product during the past three months. Or what about the 5-a-day recommendation? Well, the message has definitely got through, but the issue is that though people know about it, they do not act on it – again a bit of a pick-and-mix approach. Only 26% of adults ate the recommended five portions of fruit or vegetables a day in 2015.
But with this flitting around between different ideas, I am actually demonstrating the type of behaviours that Frazzled aims to tackle – namely, not letting oneself get distracted by zillions of different thoughts, which aren't actually the main focus of the task in hand.
Back to the book….
Well, I must confess that the elements I found most engaging were not so much the guidance around how to do mindfulness or explanations of why it is so important in our frenzied modern lives, but more the elements which were closest to telling a story. This story was the story of Ruby Wax's life and her journey around writing the book – all of which were searingly honest and characteristically spikily funny. As the author makes clear, the book was written with hiatuses – times when depression hit and she fell into bleak black 'do-nothingness'. She also lets us into her mind and shows how even people whom we might perceive as successful are riddled with insecurity, often in meeting other successful people!
The aspect of the book I found most challenging was the fact it set up a pressing need to deal with stress but was authored by someone deeper in than that, someone who suffered from periodic bouts of debilitating depression. Despite all the humour, it was clear mindfulness, for the author at least, was not about pushing up mental wellbeing, but a vital means for dealing with more profound mental health issues. A genuinely lighter touch might have been more helpful than many brutal but comic asides about the author's feelings of inadequacy.
In my final words, I would like defend Ruby Wax's promotion of living in the moment. This is certainly something which is brought up in the book, in several instances, and encouraged for its positive benefits, with advice on how to achieve such moments. Memorably, Wax talks about how delighted she became at eating some potatoes.
'That night at dinner I fall in love with a potato. I couldn't believe it could taste so sweet and crunchy and then so fluffy – it had everything going for it. I go into the kitchen and break my silence, demanding to know how they cooked the potato. The chef shows me a potato and some Tesco olive oil. I don't get it: I have eaten potatoes in my life, but never on this level. Again, I'm wanting another one while I still have one in my mouth, and I think, 'Yup, this is how I live my life.'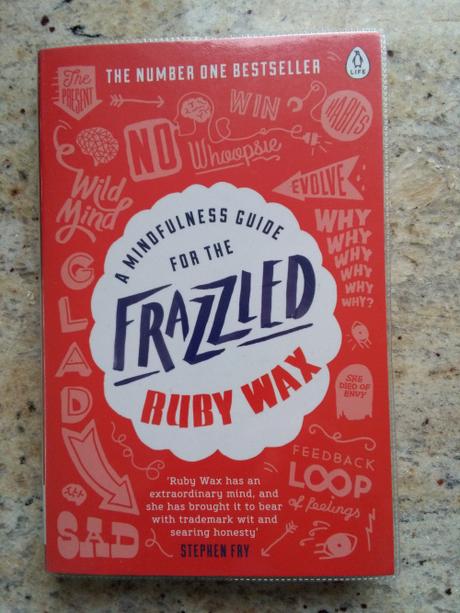 Advertisements